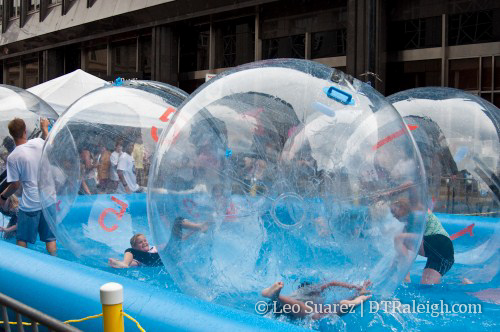 For the parents out there, you've got some time to think of a way to tell your kids that there won't be any water ball fun in downtown now that the city has decided to drop Raleigh Wide Open this year. The economy is to blame on this one, and they feel the money is better worth saving then spending. The news might sound bad but I feel there is a positive way to look at this. Downtown Raleigh has a little breathing room and maybe an opportunity to offer something new.
If you are a downtown regular, especially on the weekends, the Spring and Fall can be quite hectic. Downtown is pretty event driven, in my opinion, with visitors brought in by large events, drowning out the local crowd. Some months, it's weekend after weekend of street closings, crowds, music, and food. The old man in me sometimes gets tired of it all and just wants to relax.
How can downtown Raleigh create its own identity if it's constantly catering to so many different groups?
I do believe in variety though and that downtown should have something for all. The last five years of Raleigh Wide Opens have hopefully convinced enough people that downtown is a place to visit every now and than, that there is something for you to be a part of.
But maybe with First Fridays, Raleigh Wide Open, Hopscotch, Beerfest, the 3 or 4 marathons, Bikefest, the home tour, SparkCon, Artsplosure, 4 or 5 parades combined with all the other things happening at the convention center and the amphitheater each and every year, should we care that we lost one event?
I'd be shocked to hear that nothing else that happens in downtown can't cover anyone's sadness over Raleigh Wide Open being dropped.
Keep enjoying downtown, but do something different this year.
Similar Posts:
None right now. Must be a new project.
Comments
Comments are disabled here. That's because we're all hanging out on the DTRaleigh Community, an online forum for passionate fans of the Oak City.