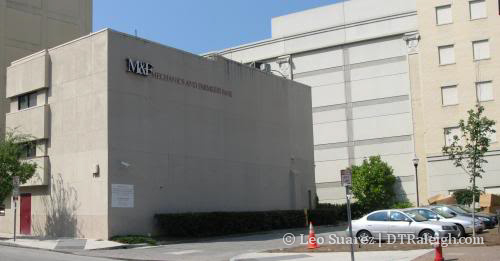 Fresh off this great read at the New York Times, I decided to push out this post about one of my favorite topics when discussing urban areas; parking. I'm not sure why it fascinates me but it's so interesting to hear people complain about it when it is proven that our parking decks are around 30-40% vacant. Paid parking is also helping businesses in downtown and the newly installed meters are working, but there is always someone who wants to complain. Fascinating isn't it?
Anyway, Tyler Cowen's article in the New York Times suggests we should be raising the price of parking and that sometimes the value of the land is worth more then the car that sits in it. For Raleigh, if prices went up, then the mass transit system needs to be a worthy alternative for everyone. Better sidewalks and bike lanes could help too. All these alternatives would ease people's worries about paying for parking. You know I love options.
I wrote up a post almost two years ago, listing off some surface parking lots in downtown Raleigh that would be great for new developments. Make sure to read that post for some background. So as a follow up to that one, here is a list of really expensive land in downtown Raleigh that is used for surface parking.
This information comes straight off Wake County's website and I used their iMaps to find the real estate information. For each parcel, or group of parcels, I've listed the total assessed value. There are some parking lots that are in downtown but are part of a property that includes the building so I have not included those as we are only focusing on the parking lot and I can't even start to think about making an accurate guess to its worth.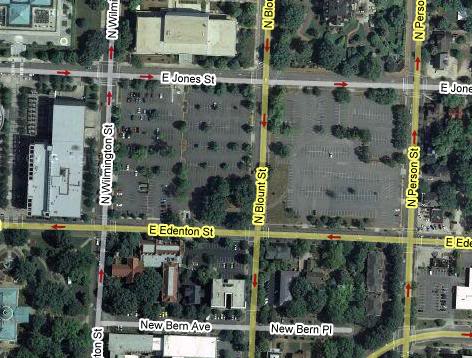 The two parking lots, shown in the map above, are to the east of the North Carolina Museum of History. These city block sized lots, minus the Haywood House in the southeast corner, have seen little development opportunity. In September of 2009, it was reported that the North Carolina State Bar would build a new headquarters at the corner of Blount and Edenton Streets. This hasn't happened yet and cars continue to park on these lots. Looking at the image above,
The eastern block's assesed total value = $7,910,085 (5 parcels)
The western block's assessed total value = $8,191,190 (1 parcel)
109 East North Street is the address of the parking lot at the corner of Wilmington and North street, across the street from the government district around Halifax Mall. The lots here were part of the Blount Street Commons project which has stalled recently and while new townhouses are sprouting up near Krispy Kreme, no mixed use buildings are on the radar for Wilmington Street.
The parking lot at this corner has an assessed total value = $7,190,603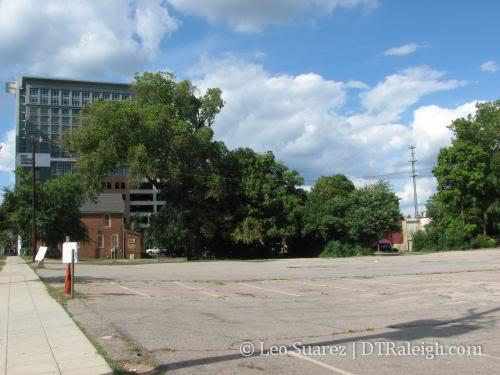 The empty lots around the Lincoln Theatre on Cabarrus street and the Pope House on Wilmington Street, shown above, are cut and carved into about 17 different parcels. There actually is a middle street dissecting the block but paid parking lots are all that is there.
All the parcels combined have an assessed total value = $4,502,200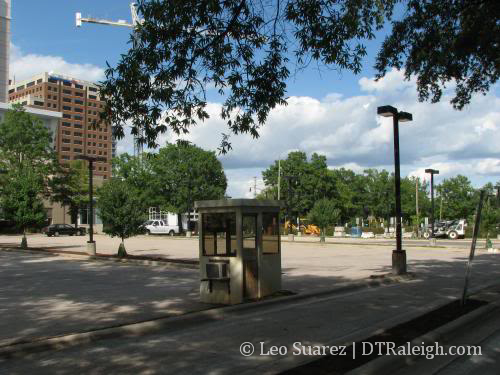 Sites 2 and 3, shown above, are referred to as the lots in front of the Progress Energy Center for the Performing Arts and they are mainly used as parking for events at the center looking down Fayetteville Street. Plans for this block have never materialized and I haven't seen anything that had a chance in the last 5 years or so. Parking it will remain for now.
Lot's total assessed value = $4,810,110
Those are the five most expensive that I found. Here's are the next ten.
4 parcels, 300 Hillsborough, McDowell, and Morgan; Assessed value = $3,348,865
4 parcels, McDowell Street, around the Enterprise lot; Assessed value = $2,145,420
2 parcels, behind City Market along Person Street; Assessed value = $1,570,270
1 parcel, NE corner of Hillsborough and McDowell St; Assessed value = $1,506,530
1 parcel, West Street where Tucker intersects; Assessed value = $1,491,400
1 parcel, NW corner of Edenton and Dawson Streets; Assessed value = $1,352,820
1 parcel, NW corner Hillsborough and Salisbury Streets; Assessed value = $1,180,290
1 parcel, West Street between Church and Vintage bar; Assessed value = $1,072,860
1 parcel, 42nd Street Oyster Bar's parking lot; Assessed value = $1,083,032
1 parcel, 42nd's other parking lot across West Street; Assessed value = $1,380,920
The last lot I want to point out is the six, yes only six, space lot at the corner of Hargett and Wilmington Streets having a value of $255,390, shown in the top photo at the beginning of this post. This is a perfect example where the space is worth more than most of the cars that sit in them, around $42,000 per space!
The question to take from this; are we using our land to its most benefit? I see evidence to prove that we are not.
Similar Posts:
Comments
Comments are disabled here. That's because we're all hanging out on the DTRaleigh Community, an online forum for passionate fans of the Oak City.