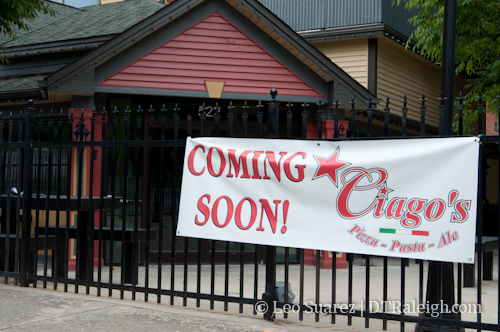 Now that Beerfest and Artsplosure are over, it's time to branch out for some new or new-ish eats around downtown. Recently, there have been a couple "coming soon" signs teasing us about new options around downtown Raleigh. Here is a list of what I have seen.
La Volta is now open near City Plaza in the Progress Energy building.
A restaurant called Ciago's has a "coming soon" sign on the corner of Johnson and St. Mary's Street. Will this place stay open longer then a year? Let's hope so.
ZPizza has signs and a website for its newest location in City Plaza.
A new nightclub and lounge has opened in The Depot. Hush is located next to Jibarra on Davie Street, facing the parking lot of The Depot.
A "coming soon" sign for Blu Bar is up in the once empty space next to Two T's, near 108 E. Hargett Street.
Mirage, a sushi bar and club has opened in one of the West at North retail spaces on West street.
Cafe Helios is renovating. They are adding a kitchen and hiring a chef. This is part of their menu upgrade, described more on their blog.
Anything I'm missing?