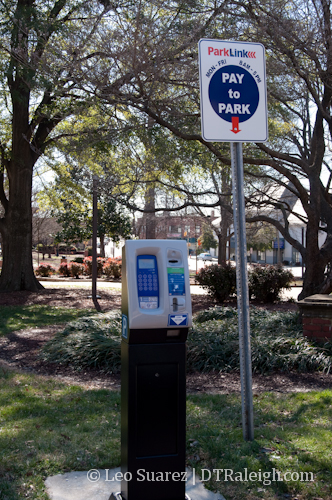 So the new parking pay stations are coming, a topic we have touched on a couple of times, and they are actually pretty simple to use. Sometime in April, everyone will be required to drop off some loose change for that space out in front of CVS and the experience will be much easier. The city has some of the new parking pay stations set up along the Nash Square side of Hargett Street. Over the next two months, the rest of the 173 total parking meter swarm will be installed.
I've created this title, Hacking Meters, to talk about the pay station use and parking in downtown this year as a way to follow this re-addition of parking meters back into downtown. You might actually learn something. I'll start out with some key links below for those that want additional reading.
City Demos New On-Street Parking Stations
Using Raleigh's New Parking Meters
And now I can contribute by listing off the important things you need to know.
It's really just a three step process. (click for larger)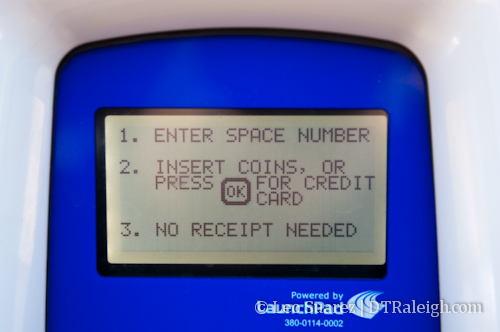 Enforcement is from 8am to 5pm, Mon-Fri
Pay stations accept nickels, dimes, and quarters. Plastic options include Visa and Mastercard.
You can pre-pay for your spot starting at 6am and time won't take effect until 8am
No receipts
Minimum amount you can charge is $1
You can pay in 15 minute increments
The green time zone signs will be replaced with blue metered signs with paying information
Maximum parking time allowed is the same as the currently allowed time on each block
There will be a two week grace period after the pay stations are installed and operating
Cars with handicap placards follow the same rules as everyone else except they can park for unlimited time, and will pay just the same