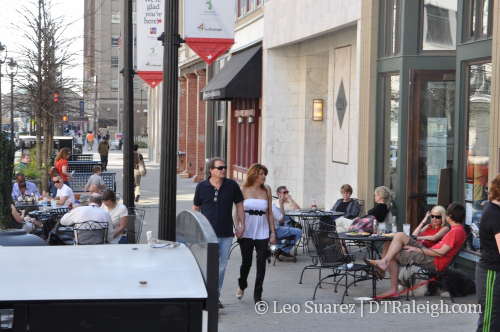 This is the last week to vote in our October Poll about the upcoming parking meters in downtown. Cast your vote in the poll located in the sidebar of the blog.
Parking always seems to be a huge complaint for a number of people who visit downtown Raleigh. I've become very interested in the city's push for new parking meters in select downtown areas. I've become even more interested in the reactions out of citizens and how it may change their behavior or view of downtown. Is the city trying to squeeze more money out of current visitors or is the city trying to help boost its economy? Opinions are all over the place on this so I'd like to talk about a few ideas in favor of the parking meters. However, my opinion could change based on how the city plans to use this new revenue stream and what programs they put it toward. In my opinion, I feel that the parking meter revenue, after maintaining itself, should be put back into the sidewalks of downtown Raleigh.
The most used transportation option in downtown Raleigh are the sidewalks. Tens of thousands of people walk on them every day; along Fayetteville Street and from Moore Square to Nash Square. To encourage more foot traffic, attractive sidewalks should be built and maintained in order to encourage businesses to open along the sidewalks where people are walking. If the money from the parking meters were put into creating attractive sidewalks, the business community will take notice. The money should be used to repair cracks, clean the area, plant trees, install bike racks, paint light posts, install attractive lighting, etc. Improving the pedestrian experience will keep people walking around and browsing the many shops and restaurants that downtown has to offer. Fayetteville Street is nice but I'm sure all of you can name a couple of sidewalks that desperately need repair and therefore have no shops near them.
If the city made plans to improve the sidewalks using the parking meter revenue then this strategy would be supported by the business community and the general public. Seeing the money being spent in the sidewalks would please a lot of people because it can easily be tracked. Internet commenters are notorious for accusing the city of keeping similar revenue in a vault somewhere in city hall. All kidding aside, people will support the parking meters more if results are in plain sight, not if the money is spread out between many other public services.
Also, if there were no visual improvements in downtown, then recruiting businesses to sign leases on our numerous empty retail spaces would be even more difficult. This may be the reason that downtown Raleigh lacks a decent supply of outdoor seating or really anything more then just a bunch of tables on the sidewalks. Sidewalks that are clean, maintained, and have an established flow of cash for improvements will tempt developers to invest more in their building and business owners to raise the bar, knowing that their "front lawn" is taken care of.
The end goal is to improve the pedestrian experience in downtown Raleigh. Fayetteville Street had a makeover a few years ago and still looks great. However, the metered zone is well outside the main street and improvements should occur along those sidewalks as well.
Similar Posts:
None right now. Must be a new project.
Comments
Comments are disabled here. That's because we're all hanging out on the DTRaleigh Community, an online forum for passionate fans of the Oak City.