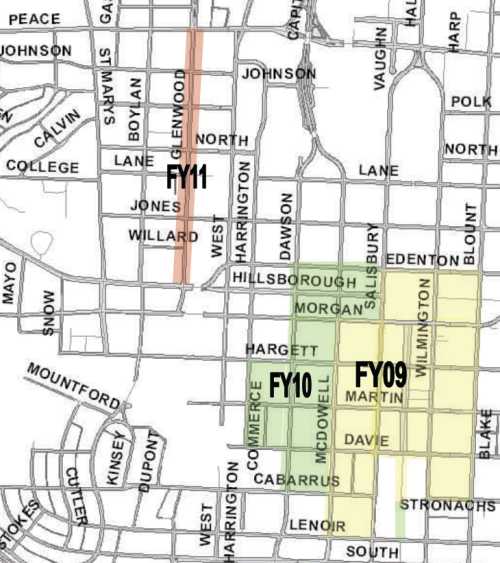 You may have already heard about it but if not, the Raleigh city council has approved the implementation of parking meters in certain areas of downtown. This letter from the Downtown Raleigh Alliance is a key read. To sum up the major points:
The first phase could come as early as June 2009.
'Pay by space' stations would be used, accepting paper, coin, and plastic.
Rates would be $1 for a one hour spot and $2 for a two hour spot.
Enforcement time would not change; Mon-Fri, 8am-5pm.
The point is to increase turnover of on street spaces as well as making parking decks more attractive. The rates in decks will not increase and a more uniform hourly rate will eventually be implemented.
What this really means
There are ways to park downtown for free; you just have to know how to work the system. Shockingly, there are people out there that play this game, you know who you are, and the parking meters should stop this. If you want to park downtown for more then two hours you should park in a deck and take advantage of the cheaper rates. With the decks more full, the streets are less crowded and therefore parking is easier. Simple, right?
I had to think this through and I think I get it; charging for on street parking will encourage people to come downtown. I also think it will put to rest the 'It is so hard to park downtown' mentality. This only applies to the enforcement time of 8-5 during the week remember. Let me try and paint you a picture.
For a short trip, parking downtown right now involves crowded streets. However, these crowded streets are free so the majority of drivers circle the block and look for that gem of a space to appear. That spot may come, where then I would consider you lucky, but if not most drivers would scream in anger, 'It is so hard to park downtown!' Now that that free spot can not be had, driver must pay up and go to a deck a few blocks away in a furious rage (and possibly hurting driver's image of downtown Raleigh). All that work just to meet a client for a coffee.
Let's fast forward a couple years after the meters have been installed and driver now has to visit downtown again. The streets are not so crowded as before and a few spots are available. However, this time driver must pay two bucks for two hours. Driver now has two choices, pay the two bucks for the convenience of parking so close or save a little by circling the block and going straight to a deck. Driver decides to pay the two dollars and has a better experience then before because driver is close to the coffee shop.
That story really wasn't that good and could have gone many ways but it does, sort of, describe a possible scenario in the future. I think the free choice versus cost choice that we have now is not helping. Unfortunately, money wins in this situation and if ALL parking cost money, people would know about that cheaper alternative. When the meters are in full effect, drivers will have two options:
Park on the street: Pay more, convenient location
Park in a deck: Pay less, walk a little
Each option can never be stressful unless its just one of those days that the entire city wants to come downtown and everything is full (which happens maybe twice a year). Businesses should enjoy the higher turnover on the spots around their block. With more turnover and more available spots, the 'It is so hard to park downtown' mentality should diminish and people will start visiting more often.
…..in theory anyway. What do you think?
Similar Posts:
None right now. Must be a new project.
Comments
Comments are disabled here. That's because we're all hanging out on the DTRaleigh Community, an online forum for passionate fans of the Oak City.