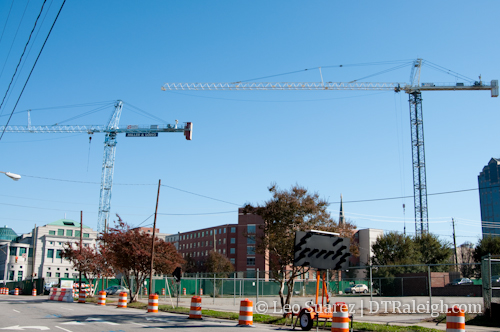 Isn't talking about an arena in downtown thrilling? Mayor Charles Meeker seems to be pushing it but the Triangle Business Journal's poll indicates that many readers are not in favor of it. I welcome the sports arena much closer to downtown but only when it makes sense. I feel it is too early to start talking about building another to replace the RBC Center. Instead, I'd like to bring up alternatives that we could pursue instead of another arena that would add an additional entertainment option to the city.
According to the RBC Center's website, the construction cost was $158 million. I do think moving the arena closer to downtown will spur its economy and be a catalyst for lots of business openings but at the same time, we will probably be forced to build more parking decks.
There are other downsides to having the arena in an urban setting. Any form of tailgating before hockey or basketball games will be gone, something that is hugely highlighted when the Carolina Hurricanes go to the playoffs. That is something unique to the area, something that not many other places have. I also know that those driving to the arena for games from outside of Raleigh are happy with the ease of access via Wade Avenue. The I-40 to South Saunders exit toward downtown is not the best entryway for game-day traffic so if the arena was built, some highway upgrades would be needed as well.
Rather then build another arena in downtown and add very little to Raleigh's offerings for its citizens and visitors, here is a short list of attractions we could be thinking about with a $158 million budget.
Aquarium
Aquariums are my personal favorite kind of venue and would be a great addition to the downtown museum offerings. I'm not sure if the numbers would make sense with the largest aquarium in the world seven hours away in Atlanta but a huge aquarium with a unique offering of sea life could draw people downtown almost every day of the year.
Transit Station and Museum
With $158 million, I'm sure a multi-modal transit station down in the warehouse district would be as good as done. A unique architecturally designed building could be built as well as incorporating some of the Dillon warehouses for a huge station with shops and a transit museum, highlighting some of Raleigh's old streetcar network and history.
Technology and Science Museum
This needs no explanation. As the technology center for the state, Raleigh could build a very unique museum highlighting some of the newest technology being developed out there. This would be an easy field trip for tons of schools around the state. I'm sure donations from a few area companies would not be hard to get either, elevating the look and offering of this science and technology museum.
Buy Dix property and make it a park
Offers like $10.5 million do not seem to get the job done so with a substantially greater budget, perhaps the Dix park vision could come true.
Similar Posts:
None right now. Must be a new project.
Comments
Comments are disabled here. That's because we're all hanging out on the DTRaleigh Community, an online forum for passionate fans of the Oak City.