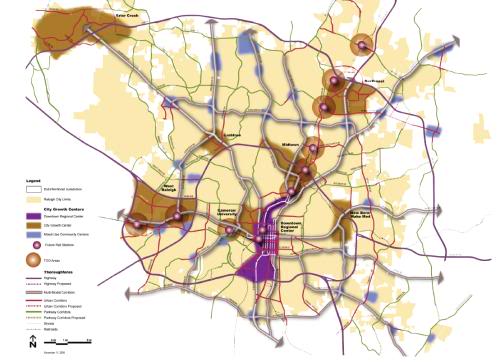 I'm slowly reading through some of the plan but the quick guides are keeping me busy for now. They help get the idea across pretty easily so I would start with those first. Downtown Raleigh is heavily involved in the document and if all goes according to plan downtown will grow larger and become the transit hub of the region.
Jump right into the online material
I was first interested in the "What will Raleigh look like in 2030 and how will the plan affect me?" guide. Here are some interesting bullet points.
The size of the downtown will grow in size southward toward I-40 with new office buildings, residential buildings, shops, parks and entertainment venues.

Raleigh will have public transit such as high-speed rail, commuter rail, streetcars, bus and express bus routes that connect the entire city and region. Getting around the region without a car will be much easier.

The City will hold itself accountable by updating the public on the plan's progress annually.
The southward growth of downtown makes sense since I-40 has the heaviest traffic and is probably the easiest route to take when heading downtown. There is also a lot of room along South Saunders for more office and residential towers. I'd like to see the side streets to South Saunders, Hammond, and Wilmington become a north/south grid and extend the current grid of downtown. The side streets can become neighborhoods with mass transit moving along the major roads to move people in and out.
"Getting around the region without a car will be much easier"
What a great quote. If you look at the "What places may change over the next 20 years?" guide, you will see a list of areas that are planning to change as well as some roads that may become huge transit corridors. Downtown is all over this list and many of the roads mentioned go through or near downtown. Connecting these high-growth centers is very important so it is good to see that there are plans for transit between these areas.
The plan does a great job pushing urban values all over Raleigh. It is still important for everyone to realize that it is just a plan or guideline and not what WILL happen in Raleigh's future. If you support this comprehensive plan, or have any input at all, please leave feedback for the city. The city is taking input through January and only by commenting can we let the city council know what aspects are important for Raleighites. If you support it, so will the city decision-makers.
Similar Posts:
None right now. Must be a new project.
Comments
Comments are disabled here. That's because we're all hanging out on the DTRaleigh Community, an online forum for passionate fans of the Oak City.