A great addition is possibly coming to downtown next month. The city is proposing a free downtown circulator (finally!) and has more details on their website here, with a .pdf map of the route here.
Let's geek out a little and break down the route to see how much nicer travel within downtown will be. This is what we know or will assume:
The link above claims a bus will arrive every 10-15 minutes.
One bus will run the route at all times.
Unless you are speeding, no one can drive that entire route under the speed limit in 10 minutes. I know this because I tried it. (disclaimer: Yes, I do have a life. It just so happened that I needed to move my car and I got curious so I decided to drive the route and time it) Driving the route at a normal speed with little traffic takes just under 15 minutes. Add stop time for passengers and we are looking at a 20 minute total route time with one bus; if traffic is bad, who knows. So the wait time may suck but running two buses at peak hours will take care of that problem easily.
Travel time is hands down more convenient. Assuming a 20 minute round trip time, let's assume that it takes 10 minutes to get to the midway point in the route. For example, if you are at the Performing Arts Center you can get to Glenwood South in about 10 minutes. The alternative is a 20 minute walk, $5 cab ride, or the guilt of punishing one unlucky rickshaw driver. With the circulator, you can sit down, pay nothing, and are out of the rain/cold/whatever.
The actual route looks very simple and touches on each downtown area. The downtown core is serviced through Wilmington St. with a stop at each block. This is very convenient for each block and the parking decks along the corridor. The route going straight down Glenwood South will probably be slowed by nightlife crowds but this is only a few hours of the week so it should not be changed. I think a stop at Davie and Dawson would make more sense then the stop at Cabarrus and Dawson because there are more businesses on Davie then Cabarrus. It is only one block however so no one should complain. The convention center is serviced beautifully with a stop right at the front door. This will also be extremely convenient for those staying at the Sheraton and the Marriott.
This simple loop should work out very well. Think of it like this; anyone is at least three blocks from a stop at anytime. That is a huge jump in convenience for anyone lurking around downtown. Also, the fact that the city wants to run hybrid buses is another bonus. Every hotel lobby, building lobby, and museum should have route maps to inform people of its existence.
Two thumbs up!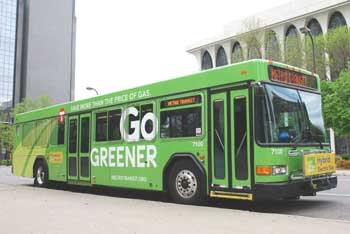 Green buses [UPDATE: 8:31am] This is what the buses could look like, not the actual buses that will be used.
Similar Posts:
Comments
Comments are disabled here. That's because we're all hanging out on the DTRaleigh Community, an online forum for passionate fans of the Oak City.