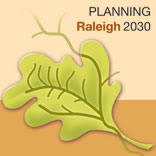 The City of Raleigh has launched a new website, www.planningraleigh2030.com. Since news is slow I wanted to highlight this link and let you browse the many documents to see if you can find anything interesting. According to the timeline we should have an adopted plan approved sometime around May 2009. Here are a couple of interesting points I noticed after maybe five minutes of browsing:
"Raleigh is nationally recognized as a model green city". I do not at all agree with this statement. Yes, we are heading in the right direction but far from being the model that other cities should look upon. I'm a big supporter of the LED replacement initiative taking place across the city. This may be an act to follow, but the city as a whole, still has some work to do.
Looking at the growth maps across Raleigh, it seems that the fringes of the city are the areas where the most growth is occurring. I believe this trend needs to slow down and annexing more land and connecting the cities with more highways is the wrong way to approach things. We do not need to consume more, but create efficiency with what we already have.
Raleigh's population as of July 1, 2007 was 367,995.
The central district population has 20,664 people, the 3rd lowest district in Raleigh, after The Umstead and East districts.
We are hovering between 3.3% and 4.1% annual growth over the last 3 years.
Of course, the stats may not really show anything. The planning districts are not the same size and those in north Raleigh are significantly larger then the ones downtown and around NC State. But should that matter since a city's downtown is generally the densest area?
What I'm really interested in is a map with job density and traffic patterns around the city. That could really help us see where the upgrades to our transit system should go.