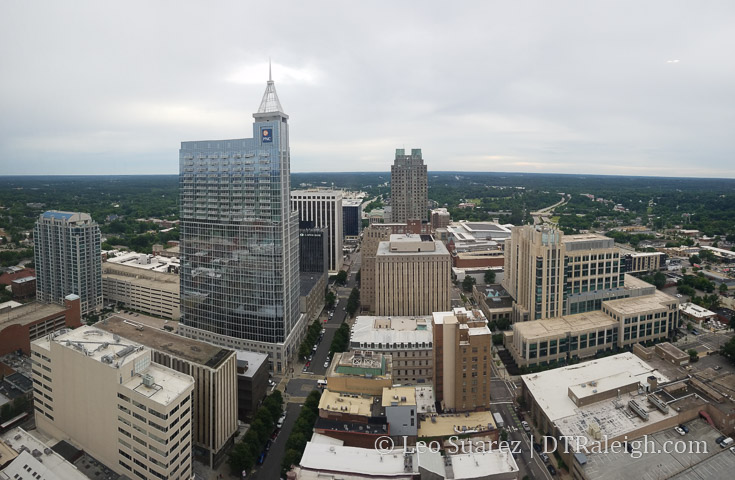 Just the other day, I bought tickets to an event in January and noticed the year value on the date was 2024. "The year is almost over?" I said out loud and everyone around me agreed that things are just flying by.
I haven't been posting on the blog as frequently lately as I have plenty of things going on in that thing called, "real life." It's all positive actually and I'm thankful that I've been able to balance work, family, social, and volunteering in somewhat harmony throughout this year that I wanted to share what is going on behind the scenes.
Online
If you're reading this, you are at the base of all DTRaleigh operations, the place where it all started. The blog is 16 years old now and I keep adding to it as opportunities come up. The blog is here as my personal project for taking photos and digging in a little to the world that is Urban Raleigh.
I anticipate things will ebb and flow as the years go on. Lately, I'm leaning toward less digital and more real world "stuff". That is, talking to people, attending meetups, networking, and just plain old enjoying this downtown Raleigh thing as much as I can. (as opposed to just chatting online about it)
Branching off the blog is the always active DTRaleigh Community, a place for more online discourse with the help of an improved platform compared to the comments here on the blog. That community was established in 2018.
There's a nice balance here as the Community allows you to dive into the details of things while the blog gives you the highlights of some of the larger topics going on in our city.
Some quick updates:
I used to have an email newsletter but that was quietly retired. I couldn't find a cost-effective alternative as my previous provider really ramped up their prices and I didn't think it worth it.
In Real Life
After the Community got going and the COVID pandemic started to fade, there was a desire for some in-person socializing. We have since started a Meetup group that facilitates a monthly social event. We welcome anyone and while some folks meet up after chatting online, we are also getting residents and other downtown fans to come and discover all this online chatter for the first time.
These are casual meetups with no agenda and we rotate around downtown to try out some new places. Again, anyone is welcome. If you're looking for the transit and zoning geeks, you can find them here.
Volunteering
In the personal volunteer arena, I want list out some things that are ongoing. If there is any interest in some of these or you want to chat about these, please reach out.
Raleigh Transit Authority – Starting in August 2023, I was appointed to the Raleigh Transit Authority. This is a city council-appointed board to discuss, advise, and make recommendations about our transit system, GoRaleigh.
Code for the Carolinas – I have been attending a civic tech organization called Code for the Carolinas and am co-leading an initiative we call, Open Sidewalks. We're trying to map sidewalks and find a partner to host an app that should help those with mobility challenges navigate our city. I wrote a more detailed blog post about it here.
Personal
And then of course there's all the things going on at home and the office. Generally, that looks like:
Spending time with family, raising a daughter, and seeing friends
Trying to get some work done and earn that paycheck
Travel as much as I can
Keep writing code and tinkering with various tech projects
Listening to all the interesting podcasts
So the blog is cruising for sure but it's certainly not out. If you're a long-time follower I really want to thank you for sticking around. I hope this post shows that with multiple things going on, it doesn't mean the blog is forgotten. I have been keeping a list of possible post ideas for years so do please stick around and check-in every now and then.
Hope to see you out there in downtown some time. Cheers!
Similar Posts:
None right now. Must be a new project.
Comments
Comments are disabled here. That's because we're all hanging out on the DTRaleigh Community, an online forum for passionate fans of the Oak City.