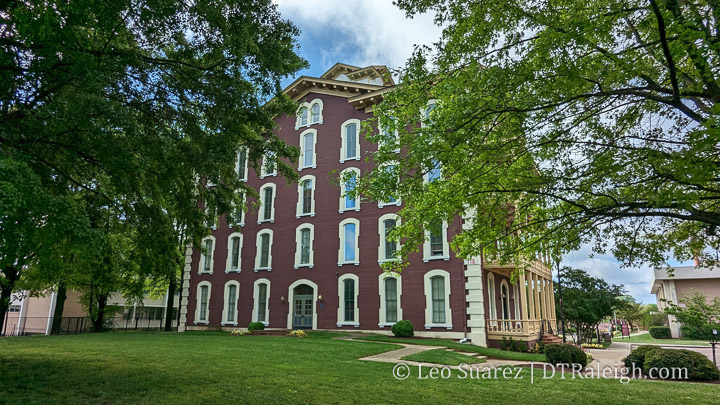 There's a big rezoning case that's now being discussed at council. Basically, a majority of Shaw University's campus is up for an increase in height, if approved. There has been a lot of public comment on this one, from residents and alumni, with concerns. In short, the university is sitting on very valuable land and with the ability to build taller, they can explore options to expand or even partner with developers to lease land for new development.
I'm not even going to pretend like I understand a private university's financial dynamics here so with this post, I'd like to just get into the current built environment and highlight some key conditions of this rezoning case, which is Z-59-22 if you want to dive straight into the deep end.
I will add that we've seen in recent history a Raleigh university make a financial move that's outside the realm of just education. William Peace University had purchased Seaboard Station around 2013 and then sold it in 2018 to the current owner who is actively developing it. That seemed like a good financial move, probably making some nice cash on that flip.
Back to the Shaw rezoning case, the affected properties cover about 26 acres on multiple blocks so to stay organized, this post is in four sections:
Historic Preservation
Core Campus
North of South Street
MLK Jr. Boulevard
I'm generalizing here but the existing zoning has properties at building height maximums of 3, 5, and 12 where the new height maximums would be a mix of 12 and 30. The latest version of the case that I'm looking at is here with this fantastic graphic showing the proposed maximums.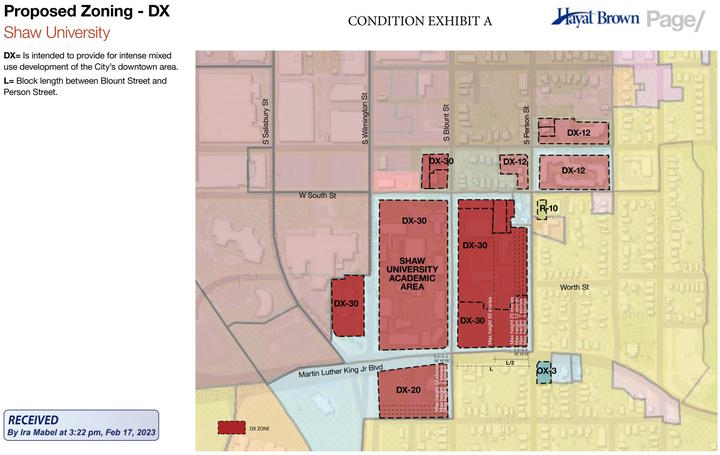 Historic Preservation
First off, the campus has some historic buildings that are conditioned into this case as needing to be preserved. I thought this a good time to revisit them as some may be relocated in the future.
Estey Hall is the most iconic and is seen in the photo at the top of this post. In addition, we have Tupper Memorial Hall, Leonard Hall, and Tyler Hall, as seen below. I imagine these four aren't being moved as they are larger structures compared to the remaining two.
Again, the rezoning case protects these structures.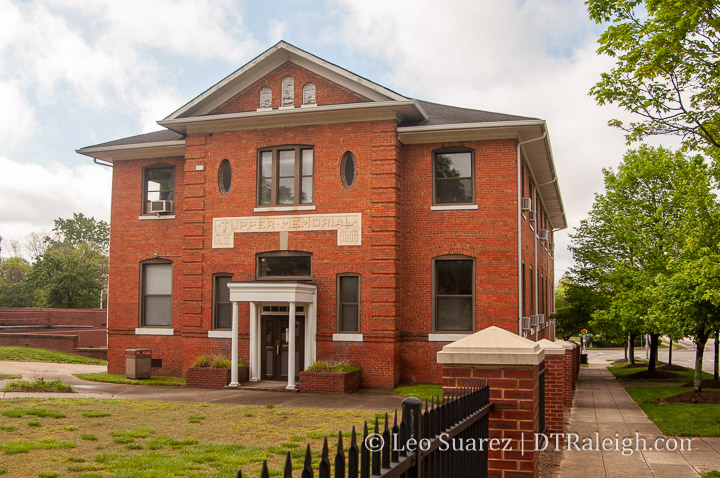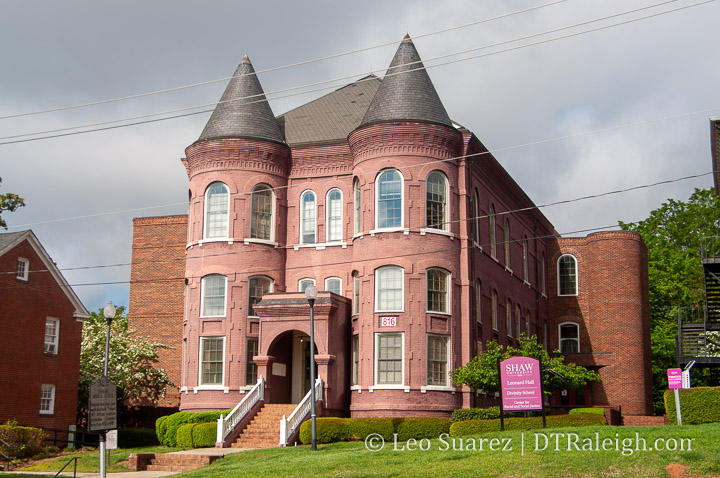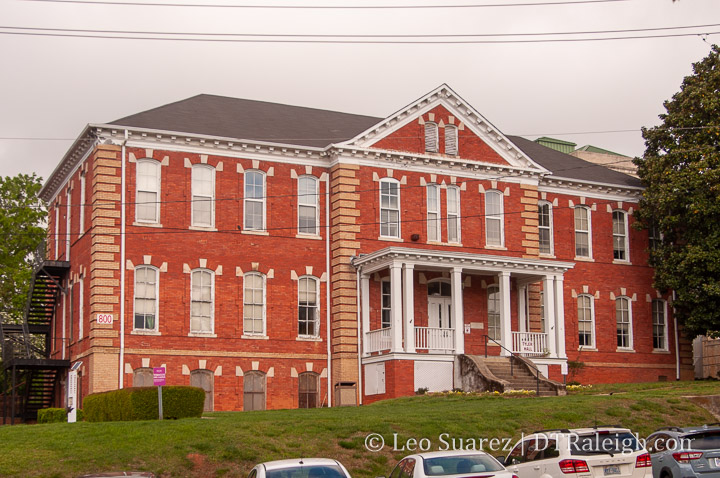 Next, we have two historic homes with the Rogers-Bagley-Daniels-Pegues House and the Charles Frazier House. If you take a look at those properties, you can see they are the closest to the downtown core so moving them seems likely. When you also consider the rest of the Shaw-owned land next door, I would bet this property gets developed earlier. More on that later.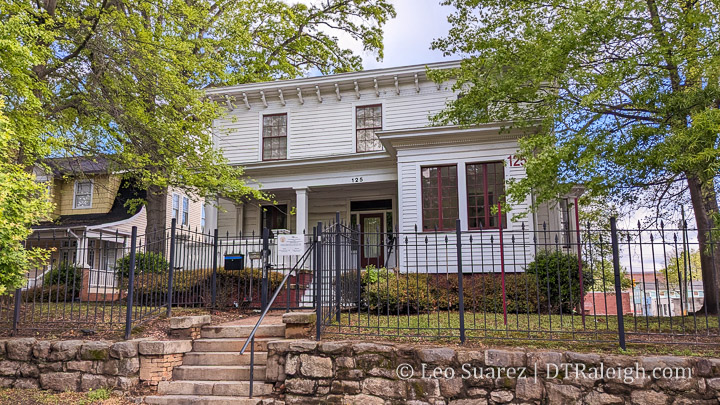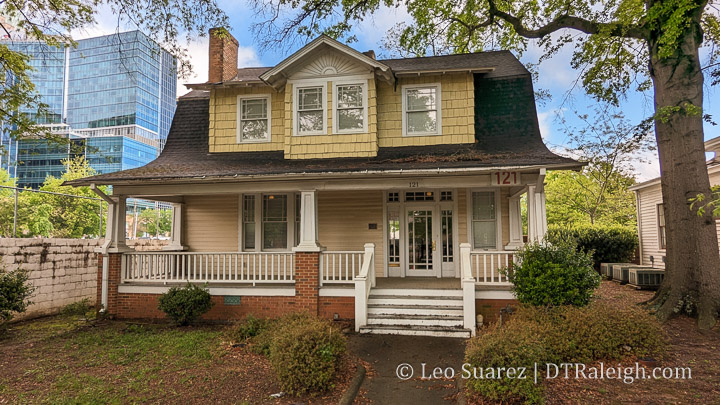 Core Campus
What I'm calling core campus is basically these two larger blocks encompassing the majority of Shaw. Between MLK/South Streets and Wilmington/Person Streets you have about 17 acres with all kinds of uses including facilities, dorms, education buildings, and surface parking.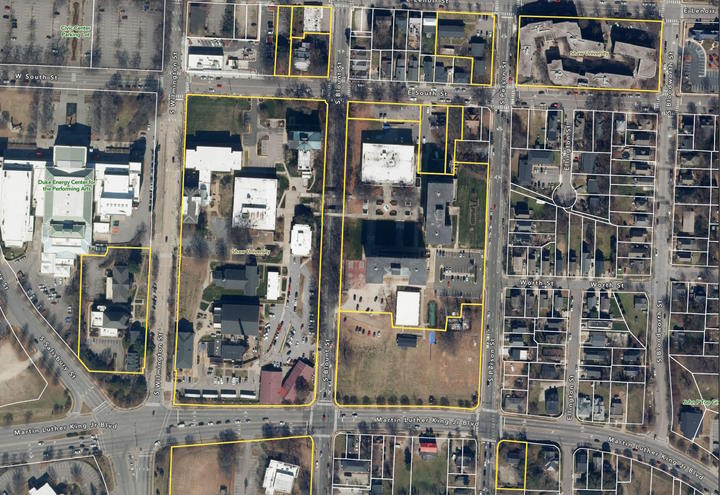 The eastern block has a few buildings that are mainly for students, as in the student center and dorms. Outdoor space and parking make up the majority of the remainder. The university wants a building height maximum of 30-stories here. This would give it a lot of flexibility to grow, mainly vertically, as a way to retain some open space. There's also a sharp decline in height as you approach Person Street. This was most likely in response to resident concerns over transitioning to the single-family homes as you continue eastward. (see fantastic graphic above)
The western block is mostly the main campus. All of it would be rezoned to a 30-story height limit, edge to edge. Other than the two historic properties here, there's plenty of room to work with based on the university's needs and opportunities.
By the way, I'm getting all this building info from the campus map.
There's one condition in the case which I find interesting. It states the following:
Requires a pedestrian access way connecting S. Wilmington Street and S. Blount
Street.
Requires a pedestrian access way or a public street connecting S. Person Street and
S. Blount Street
The two large blocks have broken up the grid a bit and walking east-west isn't as easy. That's because, as a safety measure, Shaw has a fence around their campus lots. Campus safety, in general, is a huge concern for parents of university children so there's a strong argument for this dynamic. It's not great for placemaking and urban form but safety is important also.
I'd be interested to see how they build these access ways going east-west. Maybe Worth Street can be extended through campus one day.
North of South Street
I mentioned earlier the two houses along South Street that will likely be moved. If I was betting, I feel development here takes place first. If the two houses are moved and you consider the rest of the property and its location, it seems to make sense to me. They want a 30-story height limit for a site like this one behind the Rogers-Bagley-Daniels-Pegues House.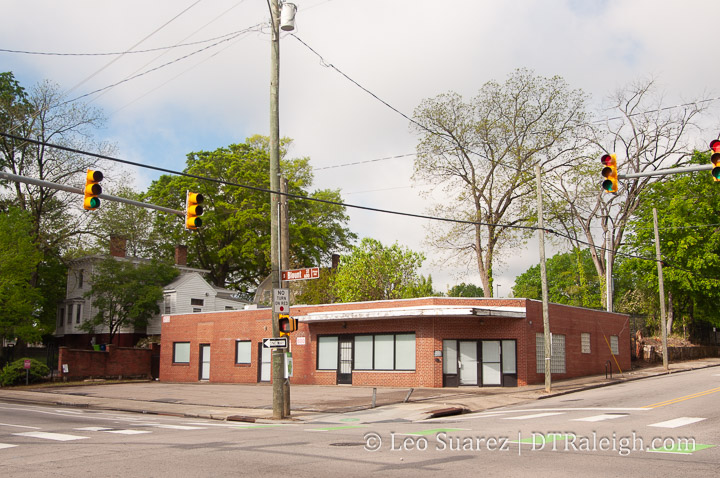 The rest of the properties, more to the east, would get a 12-story height limit. One block already has Shaw Buildings with more dorms but one property between Person and Bloodworth is operating as a daycare. Combine that with more surface parking and you have a nice site for a dense development.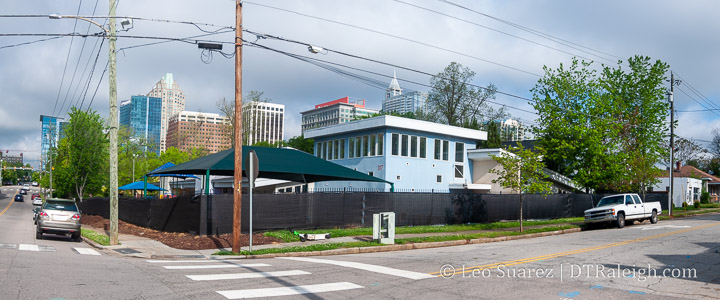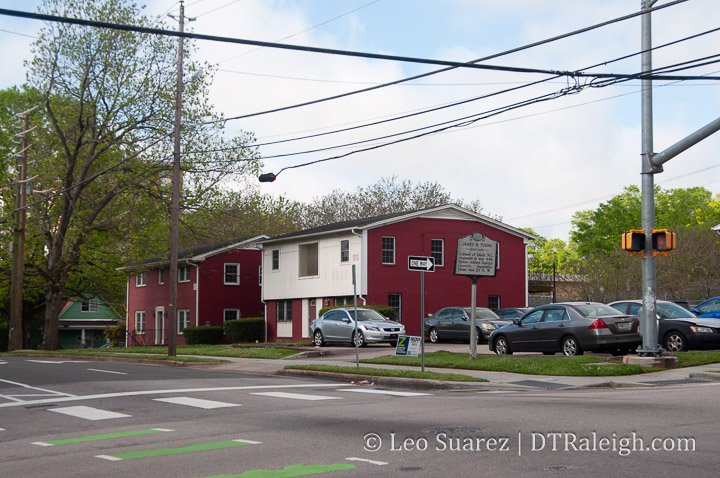 MLK Jr. Boulevard
South of MLK, at the corner of MLK and Wilmington Street, is a large property with a Shaw athletic field and the International Studies Center, home of the King Khalid Mosque. The rezoning wants to put a 20-story height limit here with step-downs in height as you approach Blount Street and Bledsoe Avenue.
Unless there are alternate locations for Shaw student athletes to practice, you really can't move something like that field but the rest of the property seems good to go for new buildings. Located along MLK, the building and parking lot are suburban in nature. This results in more land being used so going vertical seems like a natural next step.

Final Thoughts
There's so much to look at here with this big rezoning consisting of multiple properties and different urban dynamics. From what I'm reading in the news, Shaw's motivation is to partner with developers and lease their land for new buildings as a source of income. Will that help them or not, I can't say, but with more flexibility in what they can build, it's certainly possible we may get a mixed-use area around Shaw, maybe even some retail spaces for new restaurants and shops.
I do think pride in your campus is high in a lot of alumni, doesn't matter which school you went to. The idea of building on top of those green lawns and open spaces are probably seen as out-of-line and could hurt the reputation of any place. However, partnerships may just be a great way for Shaw to also experience the benefits of their downtown Raleigh location as well as delivering assets, like additional housing, to the downtown market.
Who knows. Maybe they could create a new "Shaw Main Street" along Blount or Wilmington, give it that collegiate feel. The next public comment period for this case is scheduled for May 2nd.
Stay on top of public hearings at this link and also make sure to join our conversation over on the Community.
Similar Posts:
Comments
Comments are disabled here. That's because we're all hanging out on the DTRaleigh Community, an online forum for passionate fans of the Oak City.