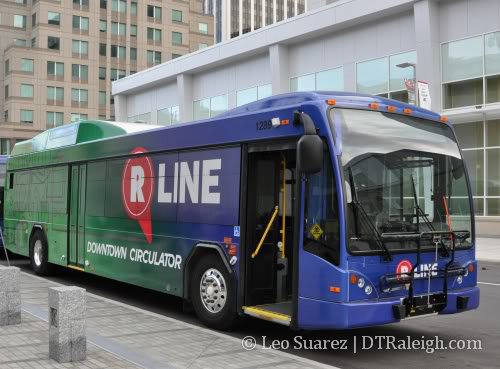 I saw this link on Twitter of a petition by some Raleigh residents that want the R-Line to be extended to Cameron Village. The petition states:
Lets bring the bus closer to us and bring new crowds over to Cameron Village at the same time.  This petition is to help bring the R-line to Cameron Village for a closer and less hassle way to get downtown and back so you don't have to worry about finding downtown parking spaces and/or of walking long distances.  Together lets bring the bus to us so that we have a faster connection to downtown Raleigh.
As of this writing, there are over 110 signatures, probably more since I've now helped spread the word by blogging about it.
The twitterverse was quick to point out the already running bus routes to Cameron Village, the #12 and #16, and how this is really not needed. I kind of agree with this thinking as having a transit network with redundant services competing for riders is a waste of money and just plain inefficient.
Take a look at the RaleighRides site and check #12 and #16 so you can see the route maps overlaid with each other. The coverage is perfectly adequate to get people from downtown Raleigh to Cameron Village. Here are the hours of each route.
Route 12 Operates:
Monday – Friday from 5:45 AM – 11:00 PM
Saturday from 6:45 AM – 11:00 PM
Sunday from 8:00 AM – 8:00 PM
Route 16 Operates:
5:45 AM – 7:45 PM Monday – Friday
6:45 AM – 7:00 PM Saturday
The bus frequency is where the R-Line wins out over the CAT routes. Most of the time, the R-Line has two buses running resulting in 15 minute frequencies. That's an average wait time of 7.5 minutes. At peak hours, the two CAT routes operate at a 30 minute frequency, off peak 1 hour frequency, that's a 15 and 30 minute average wait time respectively.
Now what we have to consider is an added wait time to the R-Line if it was extended to Cameron Village. The city owns three R-Line buses, two for operation and one as a backup when one goes down. Running three is most likely not a good idea so the extended route would be run with two unless a new hybrid-electric bus is bought to up the R-Line fleet to four.
Using my Google Map skills, I calculated that the current R-Line route is 3.9 miles (the after 6:30pm) route. Let's assume two buses can handle a 15 minute frequency with a 3.9 mile loop.
If the R-Line were to be extended to Cameron Village, the most logical route would be what the CAT #12 does today. I extended the Peace Street piece of the R-Line up to Bellwood Drive and Cameron Street. A left on Oberlin and some roundabout action could shoot the bus back down Hillsborough or Morgan into downtown. This fictional route creates a 5.6 mile loop.
So for a review, the current system has 2 buses serving a 15 minute frequency over 3.9 miles. The fictional route to Cameron Village will have 2 buses running a loop that is 5.6 miles. What frequency will this route be?
Math people check me on this one but I calculate a 21.5 minute frequency and therefore an average wait time of 10.8 minutes. Again, this is assuming a lot but interpret the numbers however you like.
Now according to it's schedule, the #12 and #16 CAT bus both take 10 minutes to get from Cameron Village to the Moore Square station in downtown Raleigh.
So with all that laid on the table, extending the R-Line would create a redundant service in the city transit network. But what do I know, I'm not a transit expert.
In my opinion, the petition just shows this area's readiness for an upgrade in transit and Wake County officials should perhaps reconsider delaying the referendum on the 1/2 cent sales tax for transit. The changes this tax will fund in the short term are bus upgrades so it's possible the #12 will operate in 15 minute intervals in the near future with this new revenue source and that would be the better solution.
Similar Posts:
Comments
Comments are disabled here. That's because we're all hanging out on the DTRaleigh Community, an online forum for passionate fans of the Oak City.