I was having a conversation two nights ago with a good friend while admiring the view from the patio at the Boylan Bridge Brewpub. Most of it was about downtown and what we "needed". While drinking some beer, we painted a picture of Raleigh in the future. I, like most, seem to get carried away with grand plans for the city that realistically will take decades to be seen. I always have to drag myself back to earth, however, and when I do, I focus on the near future. I think about the kind of things we can start today or can change in 12, 18, or 24 months from today.
Ever since I got into this whole downtown Raleigh thing, one of my top online sources for information was the city's Livable Streets site. A key page I would like those interested to see is the Five in 5 Strategy. Even though there are about 130 strategies to the Livable Streets plan, these five:
were chosen because of their ability to be a catalyst for others, to build momentum and to excite all members of the community. One or more of the Livable Streets Partners has agreed to accept responsibility for each of the five. Each has already begun moving toward completion. As one is finished, others will be undertaken until we have the vibrant, active and livable streets that we all desire.
Does City Plaza mark the end of the revitalization of downtown? I certainly do not think we have achieved livable streets in Raleigh. The idea also should not be limited to this area as the rest of the city should have elements of what livable streets are. The Livable Streets website states:
We believe that people make a city great. Yet, so many of the world's great cities dedicate too much of their precious, limited public space – their streets – to motor vehicles rather than people. We are working to redesign our communities around public transportation and walkable, bikeable streets. We are transforming parking lots into public plazas, busy intersections into town squares, and congested highways into bike paths.

What is urban about a surface parking lot a block away from our second tallest building?
The Five in 5 strategy lists:
Complete a Fayetteville Street Renaissance
Fund and build a new convention center and hotel
Improve the pedestrian environment
Undertake regulatory reform
Expand downtown management
The Fayetteville Street renaissance will be complete with Raleigh Wide Open 4 on October 24th and the opening of City Plaza. If you read this blog, I should not have to prove to you that point number 2 has been complete for over a year now. The next three tasks, I believe, need to work together in order to achieve true livable streets.
City Plaza is a good start to a better pedestrian experience in downtown. The area will have wide, safe sidewalks and approachable retail spaces for people on foot, bikes, rickshaws, anything other then a car. Cars cannot park in the area and can drive through only. The curbless "road" is flush with the sidewalks which will naturally calm traffic down and force drivers to look out for those walking by. I see it as a major sense of place and possibly the most urban block in Raleigh.
The livable streets mentality must emanate from here and throughout the downtown streets. Roads should be made bike friendly and riding should be encouraged, for example with more bike racks, discussed in a post one year ago here. (coincidence, I sware) There should be well paved sidewalks from all the neighborhoods around downtown that make it easy for people to cross streets.
I honestly could go on for hours on this topic but I'm sure most of you have heard most of this fluff about transit and biking and blah blah blah already. The thing is, I believe it is important to keep bringing it up in order to get more people behind it and to make sure our city leaders continue to stick to these values. If you want that dense, tall tower or that twenty-four hour diner or lots of shopping in downtown, it starts with getting people to live their lives in and around the area, OUTSIDE of their cars.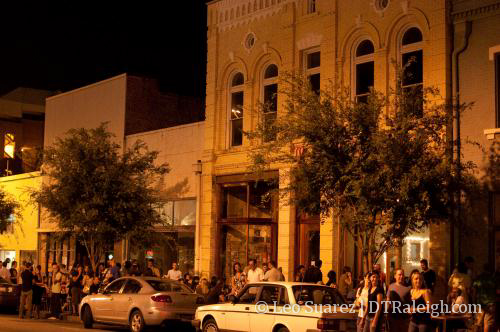 Lots of life on the sidewalks outside of Raleigh Times.
Similar Posts:
None right now. Must be a new project.
Comments
Comments are disabled here. That's because we're all hanging out on the DTRaleigh Community, an online forum for passionate fans of the Oak City.