Walked down Glenwood South recently? 222 Glenwood is putting the finishing touches on and is only a couple months away from completion. I'm pretty eager to see this condo building up and running; as well as getting the sidewalk back. This building is a key part of expanding the entertainment factor for Glenwood South as well as helping to connect the district.
Parking options will increase with the addition of 222's deck. All the residents will have their own spaces and the rest should be used by the public. However, it is yet to be determined whether spaces will be used for valet or for business purposes only. If available for the public, I would expect a small fee during peak nightlife hours. The deck has two entrances/exits but the traffic pattern is yet to be known either. See the picture below for possible ways in and out.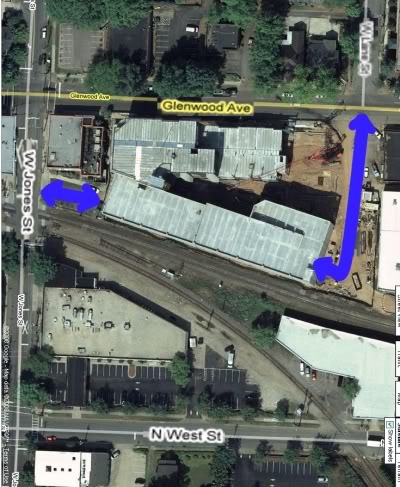 222 almost covers the entire length of the block and there is a good stretch of windows that give any pedestrian some eye candy as they stroll by. There appears to be retail/restaurant space on every stretch of the Glenwood sidewalk, besides the small space for the resident lobby. The "window shopping" effect will be attractive to people walking by and I expect this part of the street to get some good foot traffic.
Lastly, 222 will help bridge Powerhouse Square and the rest of Glenwood South. The zigzag walk down West and up Jones St. is lined with Blue Martini, Napper Tandy's, 42nd St. Oyster Bar, Prime Only, 518 West, Mosaic, and Turkish Delights. This building will fill the gap up to Lane St., where Zely & Ritz, Sushi Blues, Hibernian, Cody's, and The Rockford get things started again.
For Glenwood South to grow, we need to fill the gaps that it has with pedestrian oriented buildings and shops. 222 hits it dead on.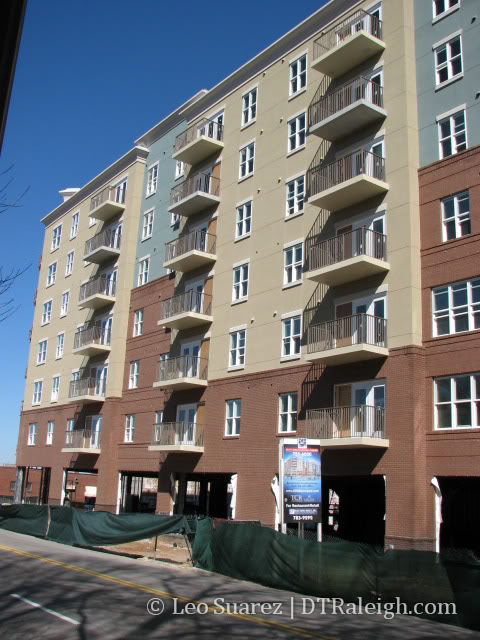 [UPDATE 6:58pm]
I noticed some commenters were not so happy with the look, especially the color. I just noticed this today and had to throw it up to get some opinions. Check out the paint job on the parking deck seen from the back, West St.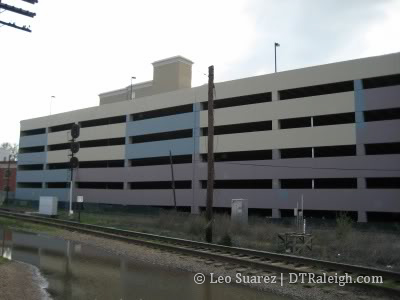 Similar Posts:
Comments
Comments are disabled here. That's because we're all hanging out on the DTRaleigh Community, an online forum for passionate fans of the Oak City.