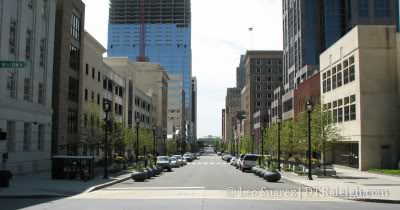 Inspired by the popular post "The State of Glenwood South", I decided to hit Fayetteville St. and break down "North Carolina's Main Street". With the weather warming up, there has been more activity on the sidewalks and restaurants are serving it up outside. Also, I've noticed a jump in nightlife and weekend activity this year as compared to last. There is still a bit of a problem; a significant amount of places are not supporting downtown traffic at night and the weekend hours. Here is a block by block summary.
————————————
100 Block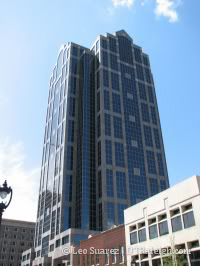 The 100 block of Fayetteville St. offers a random assortment of shops for pedestrians. You can park here, get your eyes checked, plan a trip to that exotic country you've always wanted to go to, and all with a coffee in hand. The work week keeps this block alive, with lunch traffic and the Alexander Square parking deck full to the brim.
But when rush hour traffic dies down, this block mostly closes shop. Crema is a great place to for some food and coffee with the best hours here, open everyday. Café Carolina and America's Pita Grille have yet to experiment with night and weekend hours. The Justice Building, Court of Appeals building, and Wachovia tower eat up a lot of space too, offering nothing to those walking by.
This block needs work.

200 Block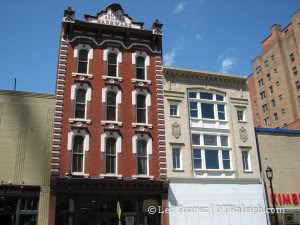 We are now getting into the meat of Fayetteville St and its 200 block is shaping into something really exciting. So far The Big Easy, The Mint, and Port City Java are open close to everyday. If you still have not been to the Raleigh City Museum, take the time and get out there. There is plenty of room for more and there are two renovation projects currently underway.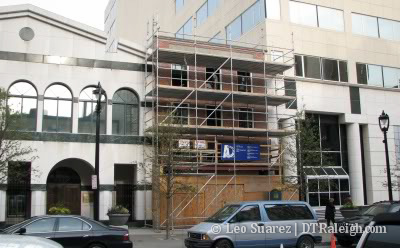 CVS still does not have a clue what is going on and has the worst hours. I have really noticed a significant amount of people that walk up to the door and are surprised that it is closed on the weekends (no, 9-1 on Saturday does not count). No kidding, I e-mailed them about this location's hours, the downtown growth, and the constant complaints. Here is their response:
Thank you for contacting the CVS/pharmacy website. I am in receipt of your e-mail regarding the store hours at our Raleigh, NC CVS/Pharmacy. I am forwarding your comments to James Barefoot, the District Manager. He will review this with his staff at their next meeting.

We appreciate the time you have taken to share your comments with us.

Sincerely,

Cynthia Azevedo

CVS/pharmacy
Customer Relations
This was three months ago and I see no changes. Come on CVS, get with the times.
This block is improving and showing growth.
300 Block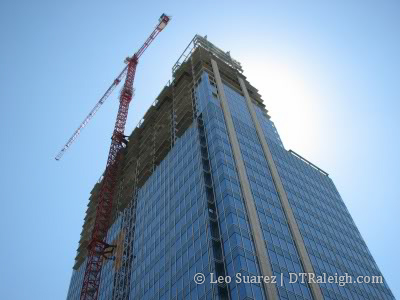 The 300 block is the tallest block in Raleigh all thanks to RBC Plaza. This building offers a lot of ground floor retail space and will hopefully be occupied when the building switches on later this year.
The 300 block is also the brightest block with the ABC news station on the ground floor of The Hudson. Sono and Yancy's also add to the activity inside.
The weekday work crowd will always own this block because on the opposite side of the street, the courthouse and post office are buzzing during the work week only. On nights and weekends, you get a one-sided view with lights and activity on one side and closed up buildings on the other.
This block has shown the most growth.
400 Block
Right now, Fayetteville St. ends here as we wait for the Marriott Hotel to open and then it will continue to Lenoir St. This block supplies a lot of visitor traffic from the Sheraton. Chick Fil A offers weekday lunch and the Sheraton also has a restaurant and bar inside.
City Plaza will hopefully save this block from being voted most boring block in downtown. The barber and flower shop are in a very small building on prime land. I would not be surprised if this small parcel along with some of Progress Energy's land behind it is razed for something tall but that is just my prediction.
Besides the NC Opera Company moving here, there has been little change. We'll just have to wait and see what happens throughout the year.
This block has shown no real change.
—————————————-
So there it is, covered fully from end to end. To sum it up shortly, I think the government buildings are an obstacle to downtown growth and pedestrian activity. Still, Fayetteville St. is growing, slowly, and going through a painful process to get away from the 9-5, Monday to Friday scene that it has become so accustomed to for over 30 years.
Similar Posts:
Comments
Comments are disabled here. That's because we're all hanging out on the DTRaleigh Community, an online forum for passionate fans of the Oak City.