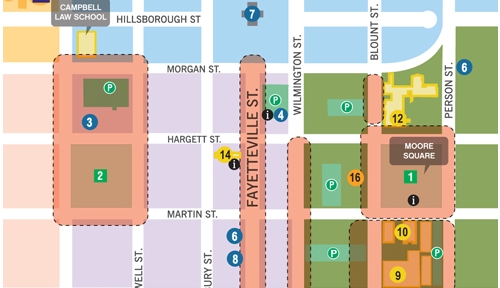 Click to see the full map.
Reading about New York City's recent expansion of Wi-Fi in city parks made me start to think about what we have in terms of free connectivity to the internets while being outdoors.
As a refresher course for those that don't know, there is free, public Wi-Fi in certain sections of downtown Raleigh. Take a look at the map above for the covered areas but simply put if you are standing outside and are around:
Nash Square and City Government Complex
Fayetteville Street
Wilmington Street
Raleigh Convention Center
Moore Square
City Market
you should be able to pick up the signal, labeled "Downtown Raleigh FREE WiFi".
The City of Raleigh provides the Wi-Fi service and you can get more information about it here.
Now having the Wi-Fi is great and all but I'm curious to know how many people actually know about it. Walking the sidewalks of Fayetteville Street, there is no way to know that bandwidth is buzzing around you. I think for some visitors, it would be useful for them to know that they are in an area where there is free, public Wi-Fi.
In a subtle way, maybe it would be helpful to let people know of this service. I put this sign together really quickly to illustrate one possible idea.

The wireless symbols above the 100 indicate that this block has Wi-Fi. Signals on the blue wayfinding signs could also be added. There are lots of ways to go about doing this.