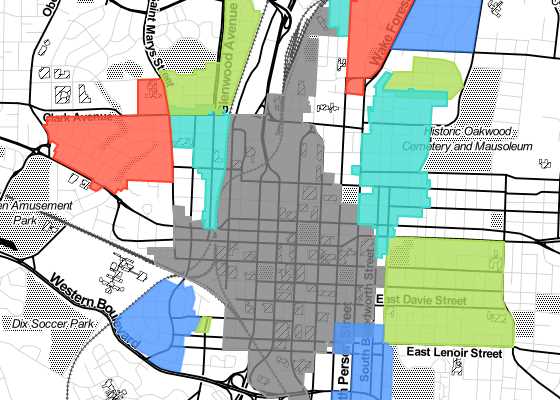 I've been interested in building a mapping project using the lightweight javascript library Leaflet and today I wanted to post what I've got. Far from complete, it may never be, but over at Hoods.DTRaleigh.com I have posted a project called DT Hoods and am attempting to map neighborhoods and nearby points of interest near downtown Raleigh.
I sometimes stray the blog content on topics that are just outside downtown but for the majority of my time, I focus on just the downtown area. That doesn't mean though we shouldn't pay attention to what is happening in the ring around downtown Raleigh. The neighborhoods have their own story and influence downtown in subtle ways.
The issues are all different and vary from neighborhood to neighborhood. Topics like historic preservation, new economic development, transit, and affordable housing are some of things being discussed just outside of downtown.
This isn't to say that this blog will start covering those things and I'll always maintain a hyper-local focus. Rather, while downtown is enjoying the success of the revitalization efforts that took place in the early 2000s and is currently making plans to move to the next level, it's the adjacent neighborhoods that are starting to get attention.
The neighborhoods, slowly, are firing up their own economic engines and where before people came into and out of downtown we have a situation where destinations lay inside and just outside downtown. The neighborhood bar, bakery, or shop is a next wave of trend that I think we'll be seeing in the next 10 years, all while downtown continues to grow.
The mapping project also helps myself and readers with a page to point to when talking about new developments and neighborhood impacts/planning. Play around and enjoy!
DT Hoods
As always, the project is open-source and I show my neighborhood data on GitHub. Contribute or use it for your tech project.