[I'm reposting this article with permission from the Innovation Raleigh blog and author Derrick Minor. Rather than rewrite last weeks big news of the expansion of the local startup community, Derrick is the perfect person to be sharing all the details. Thank you, Derrick for allowing me to repost for RalCon readers. – Leo]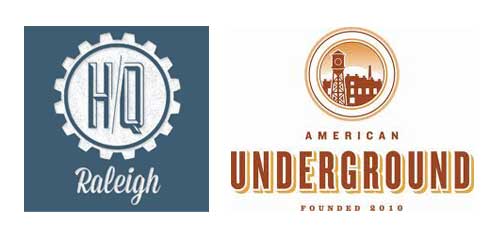 The old adage "When it Rains, it Pours" definitely applies to this morning's news. With almost simultaneous releases, both American Underground and HQ Raleigh announced expansions in Downtown Raleigh, further bolstering the already growing startup scene in Raleigh and the Triangle.
HQ Raleigh (formerly HUB Raleigh), which is currently located in the Junior League building on Hillsborough St in Downtown, announced this morning that they will be expanding into a 14,000 SF space in the growing warehouse district of Downtown Raleigh. At approximately 4 times the size of their existing space, the new digs will allow HQ to house a lot more companies and host much larger events, both of which are a high demand in Raleigh. This news also comes on the heels of the recent partnership announcement between HQ and the Wireless Research Center of NC, an incubator in Wake Forest that enables inventors and corporations from around the world to develop cutting-edge wireless devices. I look forward to seeing how this partnership flourishes once the expansion into the larger space is complete. HQ anticipates a Fall 2013 move-in date.
In equally great news, the American Underground, with 2 existing startups spaces in Durham, announced that it would be opening a 3rd location in the Triangle… This one in Downtown Raleigh. Underground @Raleigh will be located on Fayetteville St and will house 25+ startups, as well as Bandwidth Labs, the incubator division of Raleigh-based Bandwidth.com. I don't know much about Bandwidth Labs, but I look forward to learning more, as it sounds completely awesome. Additionally, this move will bring new relationships, resources, and programming to the local startup community in Raleigh and will also help AU to create a regional network of startup spaces throughout the Triangle. @Raleigh is expected to be delivered in the Fall as well.
So the big questions you may be asking are, "Do these two expansions create a saturation point in the market and is there enough demand in Raleigh to allow both of these spaces to be successful?" I fully believe these announcements will actually create more demand for flexible spaces for startups and in my opinion we are far from being saturated. A few facts I considered when coming to this conclusion.
HQ Raleigh has only been open for 10 months and they were basically at capacity by month 7. There are currently 31 companies on the waitlist for only 6 existing office suites and I know they receive new inquiries on a daily basis. Once they move to their new space, I expect the inquiries to increase, as they will now have the space to accommodate new entrepreneurs and companies. The expanded space will also allow for more robust programming and partnership opportunities that are currently unavailable.

American Underground has already built a very unique and successful brand throughout the Triangle and there are startups in the area that may identify more closely with the AU brand than with the HQ brand – and vice versa. In addition, AU will be located in the denser core of downtown on Fayetteville St and HQ will be located in the gritty and growing warehouse district. Each space will have its own unique features, characteristics, partnerships, and programs that will be attractive to different entrepreneurs and companies… But that's Ok. Having a diversity of successful brands, spaces, programs, and resources will further push Raleigh and the Triangle forward as a great place to start and grow a company.

I have identified over 300 startups and growth companies throughout the city of Raleigh and those are just the ones I know about… I suspect there are many more startups and early stage companies that are either working in a silo or operating in stealth mode, waiting for the right opportunity to announce their presence. I regularly uncover new companies and I am excited to see how these above announcements may draw out even more companies and entrepreneurs that are currently unknown by most of the market. Granted, not all of these companies will want to be physically located in either HQ or AU, but most will want to attend events or take advantage of the programs and resources offered by both spaces, creating additional density and opportunities for beneficial collisions to further spur new activity and energy feeding the creation of new ideas and new companies. With new talent and entrepreneurs regularly moving to the region and startups regularly coming out of the university system or spinning out of our local companies, I firmly believe we will continue to see substantial growth in our local startup ecosystem. And with a growing network of successful startups and spaces throughout the region, I know we will begin to see additional exposure on a national and international level as well, as further solidified by this afternoon's TBJ article.
The next few months will be exciting times as both spaces come to market and I look forward to working with both AU and HQ to help further build out this awesome Triangle ecosystem. How do you plan to contribute to helping to push our region's startup community forward?
[Derrick Minor is the Innovation and Entrepreneurship Manager for the City of Raleigh and serves as a community builder, catalyst, and connector for entrepreneurs, startups, and growth companies throughout the city. He also serves on the Board of Advisors for Innovate Raleigh, HQ Raleigh, ThinkHouse Raleigh, and the NC State Technology Incubator. Derrick's mission is to elevate Raleigh and the Triangle region as a top 5 destination for innovation and entrepreneurship in the country within the next 5 years.]