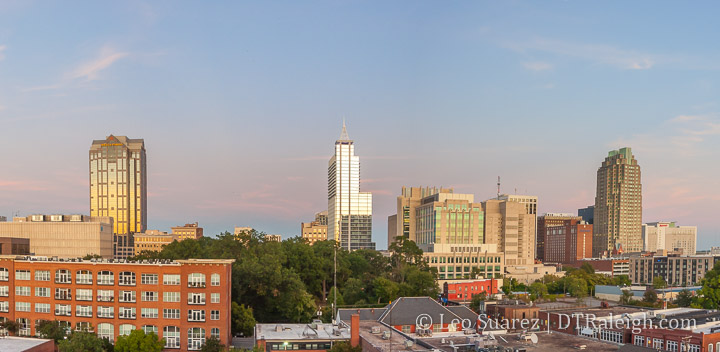 2019 is shaping up to be a pretty active year for development in downtown Raleigh. New projects have been announced and ground breakings took place throughout the year. One thing that kind of jumped out to me is the possibility for some taller structures in our future.
I put "possibility" in emphasis as there is a big window related to the height restrictions set in our development code. At the tallest end of the spectrum, we have the following zonings:
12-story height limits
20-story height limits
40-story height limits
It's a bit of a jump if a project wants to do something with 20-30 floors but you have to ask for permission to do as high as 40. Just to level set, downtown Raleigh's tallest three towers (all shown in the header photo above) include:
PNC Plaza with 32 floors (538′ to the tip of the spire)
Two Hannover Square with 29 floors (431′ tall)
Wells Fargo Capital Center with 30 floors (400′ tall)
Density is typically a more important factor for me personally but if height is what you are interested in then you probably want to follow along these new projects we're tracking over on the Community.
121 Fayetteville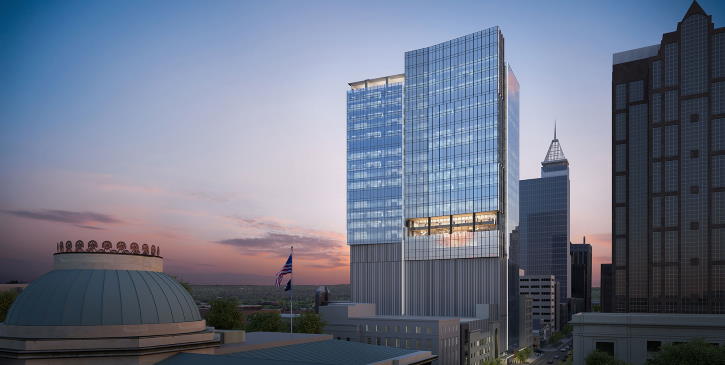 121 Fayetteville is planned to be a 30-story office tower right on Fayetteville Street. Sitting on the 100-block, on top of (or partially replacing) the Alexander Square parking deck, this new tower will be adding parking space as well multiple terraces on different floors.
For the zoning geeks in the house, the block already has a 40-story maximum, meaning this project probably just needs tenants to sign on before construction begins.
Find out more at 121fayettevilleraleigh.com
RUS Bus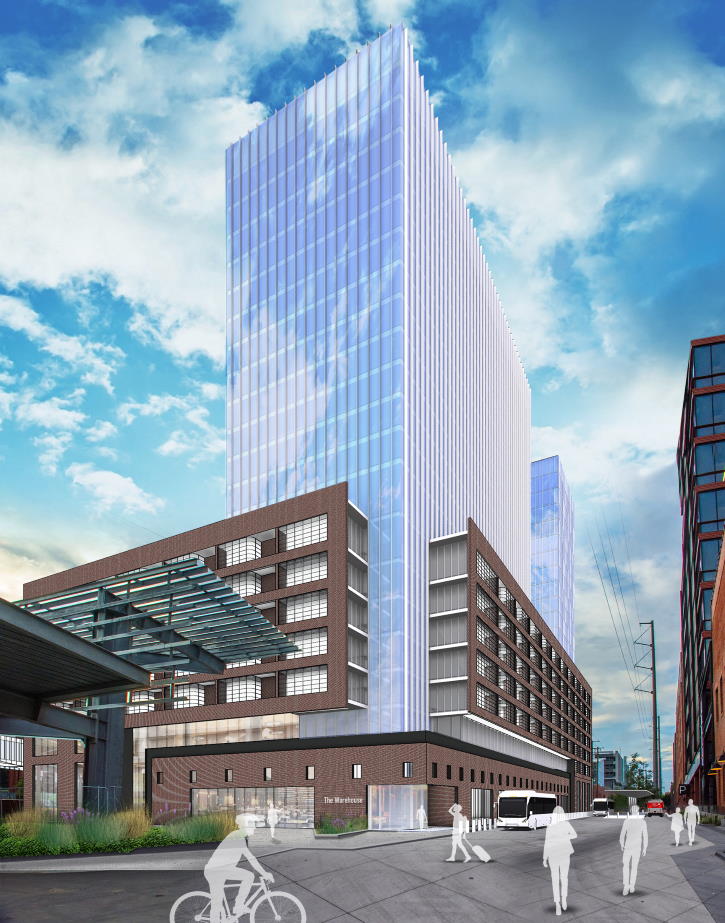 The Raleigh Union Station Bus Facility (RUS bus) will be along West Street between Hargett and Martin Streets. This year, GoTriangle has received approval from the city for a rezoning with a height of up to 40-stories.
The bus station with a tower on top is planned to have a mix of housing, market-rate and affordable, as well possibly office and hotel uses. The tower portion is being worked on now but it seems that a 20-story height limit was limiting in possibilities here.
We expect more details on this project next year but you can find out more here: rusbusnc.com
Smoky Hollow Phase 3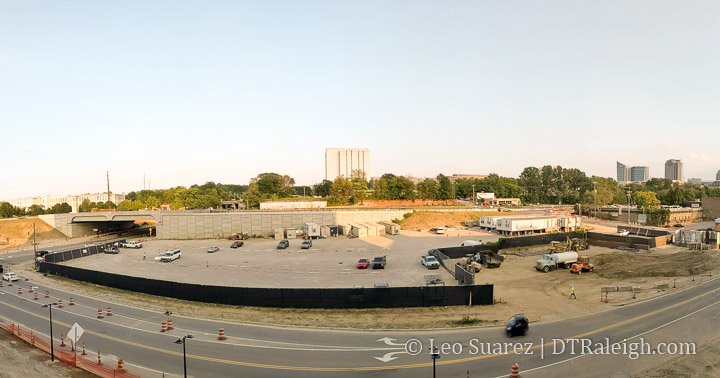 You must be new if you haven't heard of Smoky Hollow so please jump back to the tagged posts and catch up. Phase 3 was formerly zoned for a maximum of 12-stories but a request for the 40-story maximum was approved this year.
Those behind the project shared details of a mixed-use building with housing on the lower floors and a tower for offices. The development may have active uses along Harrington, Peace, and Johnson Streets as it'll further build out the fabric of the Smoky Hollow developments nearby.
You can see more about the nearby projects delivered by the same developer here:
506 Capital Boulevard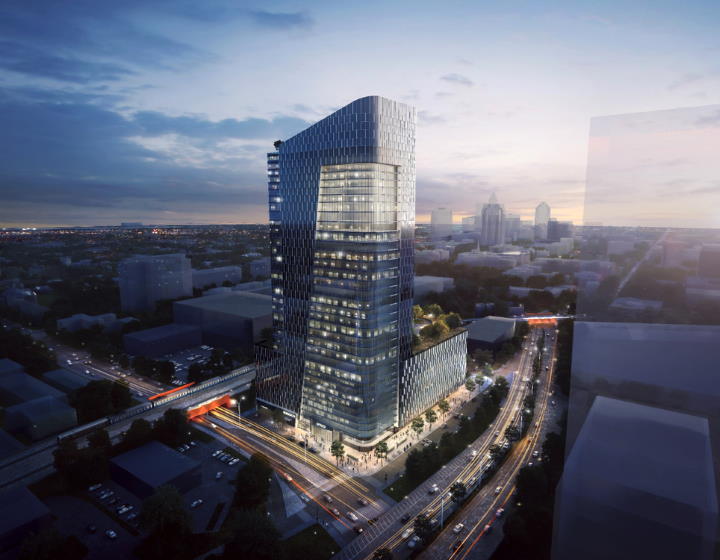 Opposite of Smoky Hollow Phase 3 over Capital Boulevard, another 12-story zoned property is seeking a rezoning for a 40-story maximum. The developer wants to get the rezoning set for a possible large tenant in the future and could build a tall office tower on this 1.5 acre property.
Currently, the rezoning ( Z-17-19) is working its way through the process and may hit the city council for discussion early next year.
From conversation on the Community, the location wasn't so clear. The site is located on Peace and alongside Capital. Below is an aerial with some labels to help orient readers.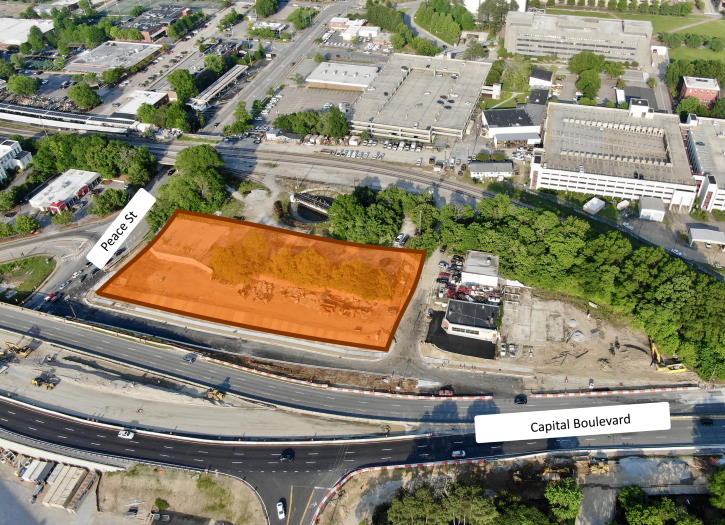 Like I stated earlier, it is a big window in height between 20 and 40 stories. 121 Fayetteville is advertising a 30-story tower but, pending rezoning approval in some cases, the others may be 20-somethings or closer to new heights up and around 40.
As always, this new trend will be interesting to watch play out!