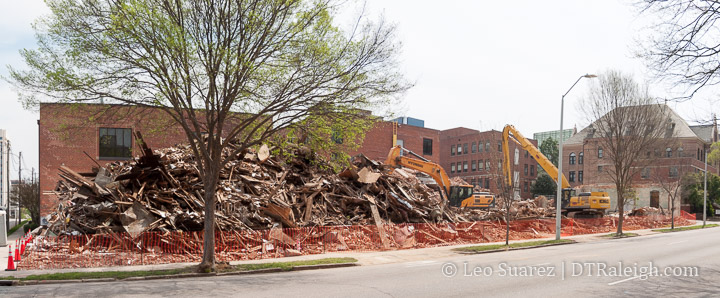 More demolition is taking place in downtown Raleigh. This time, it's along Dawson Street on the Caswell Square block.
The century-old, state-owned buildings, the biggest being a former heating plant for the state government complex, had interest from a developer but the Council of State did not approve selling to a private entity.
At this time, there are no plans for the land and there have been no released master plans for the Caswell Square block. I feel it's a shame to see more Raleigh-history demolished, especially when there was interest for renovation. At the same time though, I'm not sure about selling the land for private use.
The state government is probably the worst landlord in Raleigh so behavior like this is not surprising.
You can revisit Caswell Square on this December 2016 blog post.
Similar Posts: