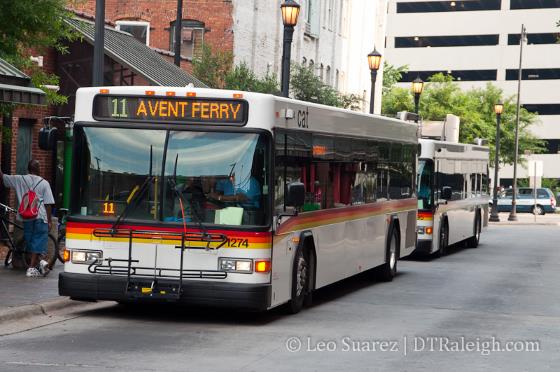 Last week at a public information session, plans for Raleigh Union Station and the Downtown Bus Facilities Master Plan were shown off and discussed. While Union Station gets all the press, see the updated renderings (via N&O), plans for the Moore Square Transit Station are now unfolding. With less pizzazz, and less progress, compared to Union Station the question of how downtown will handle the hub of Raleigh's future bus system is very important.
The problem revolves around one question. How will the rail networks serving Raleigh Union Station compliment a future expanded bus network, and vice versa? Our current Moore Square Transit Station, the central hub of the Capital Area Transit system, is nearing capacity. If it were located near Union Station, there's still not enough room to incorporate all the future routes and riders.
What planners are trying to figure out now is how to use bus terminals at both Union Station and Moore Square so that they compliment each other effectively. During the meeting last week, I took some photos of the current thoughts on how the Moore Square Station may evolve over time.
Click on this image below to see a possible solution for the current, near future, and long-term traffic flow of Moore Square Station. Excuse the blurry cam.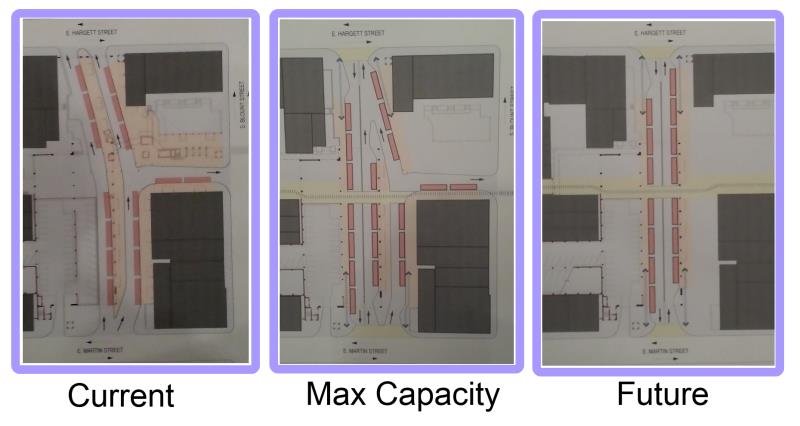 The first image shows the current layout and bus flow through the station. Buses turn in to the station on Martin Street and depending on the route, they either leave on Blount or Hargett Streets.
As the system grows and Union Station is worked on, Moore Square will have to accommodate more buses and routes before Union Station can alleviate some pressure. The second image shows how that could work. The inner lane can be expanded and converted to two-way. After removing some planters and parking, there actually is room to make that expansion work. I had to go and see that for myself and sure enough…
With another lane for buses, capacity is increased. At the same time, the station is pretty much maxed out.
The third image shows what the future of Moore Square Station could be once Union Station is up and running with bus routes circulating here and there. The one-way street and connection from the station to Blount can be removed, leaving only the two-way lane for buses.
There is still lots of work to do with planning routes, which stations they will serve, and how to effectively connect both Union Station and Moore Square Station. This just shows that Union Station could be one piece of a major transit network overhaul in Raleigh's future.
Similar Posts:
Comments
Comments are disabled here. That's because we're all hanging out on the DTRaleigh Community, an online forum for passionate fans of the Oak City.