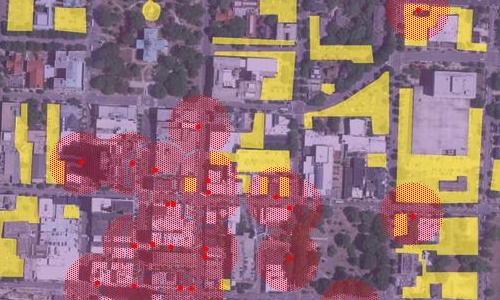 Map of downtown Raleigh with surface lots is an academic project created by the Downtown Living Advocates' Streetscape Committee and Andrew Campbell of NC State.
Click the image for large or here for a full size.
In case you haven't been following closely, the last time the food truck issue has been looked at by the city was at the Law and Public Safety Committee's July 26th meeting. (meeting minutes here) No recommendation was made by that committee and it will next be discussed at their August 30th meeting. Once they make a recommendation it goes to the city council where they can approve it or pass it along for more review.
One of the restrictions that is being discussed is for the food trucks to be no less than 100 feet away from a restaurant's front door. This restriction probably comes from a few restaurant owners that are against food trucks in downtown Raleigh. While I don't agree with some of the arguments made by these owners, I feel there is a way to compromise in order for us to finally have the food trucks up and running.
I've modified a map of downtown Raleigh in an attempt to visualize what the 100 foot rule may look like. The map above shows a few things.
The purple area is Downtown Raleigh
The yellow areas show surface parking lots
The red areas represent where a food truck cannot operate under the 100 foot rule. These are 100 foot radius circles with the center being over a restaurant's front door
The red areas' locations are approximate and not every downtown restaurant is shown on the map, rather a majority is represented as I can still make my point with a few missing. Click on the image above to see a larger view or the link below it for a full size image for larger screens.
The Compromise
First off, I think the map is pretty powerful in showing the amount of surface parking we have in downtown Raleigh. I'd love to dive into this topic but I'm going to save it for another time. Instead, the point of overlaying the surface parking with the red circles shows us something else completely. There is a perfect opportunity, in my opinion, to have this food truck issue closed and all businesses can operate fairly.
The 100 foot rule is perfectly adequate to give the restaurants some breathing room from the trucks they are against. If you look at the map, the two sections of downtown with the most activity, Glenwood South and Fayetteville Street, are naturally buffered from any available spaces for food trucks to park. Restaurants claim it is unfair competition since they pay high rent and more overhead. The way I see it, those higher rents are getting these restaurants prime lots in downtown, which the food trucks can't park in with this 100 foot rule.
With the map above, you can also see which areas have no food at all, mainly the government district north of the State Capitol. Food trucks can then provide a convenient service to a workforce that currently drives to get their lunches if they didn't bring it with them.
The next issue that has been brought up is the affect of food trucks on traffic flow. The high amount of surface parking presents an opportunity for re-use and for us to energize these static, barren spaces. Food trucks can be kept off streets and parked on lots rather than in parallel parking spaces. They bring people to them and therefore the lots will have a new type of use by the pedestrian that it hasn't had before. Collaboration between private lot owners, public lots and food trucks owners can work out a system, perhaps in the permit which they need to pay for anyway, so that certain spaces are designated for the trucks. Imagine private lot owners competing for food trucks to park in their lots because it gives them more exposure and more regular parking revenue from the trucks. It may just encourage some to clean up those desolate looking lots.
Some more official form of this map may end up being made by the city, as they are discussing perhaps raising the distance to 150 feet. According to the minutes of the July 26th Law and Public Safety meeting:
Chairman Baldwin asked:

7. What are the implications of an increase in the distance requirement from 100 to 150 feet?

Senior Planner Crane stated it is another 50 feet of distance. This was sorted out at the public hearing in April. He pointed out if you take this question with question #8 what are the implications of an increase in the distance requirement from residential areas to 200 feet? You will find along very narrow corridors like Glenwood South they will have a much smaller narrower area to locate these food trucks.

Assistant City Manger Howe stated they have not done enough specific analysis to see exactly how many spaces this may allow. It is possible to do this but would take some time. Ms. Baldwin asked how long it would take to do an analysis. Mr. Crane stated they would need a week to ten days. Mr. Howe stated they would still have to identify where the door is. A lot of the work can be done on GIS but you cannot tell on GIS where the door is. The group discussed this issue extensively as it relates to distance, mistakes that could be made, area sizes, doorway identification, industrial zoning, etc.
I haven't seen this data yet so for now, we have the map that I put together in just twenty minutes. A more official map, I'm hoping, will help decision makers visualize the food trucks in downtown and help bring this case to a close. A compromise is all we need.
Similar Posts:
Comments
Comments are disabled here. That's because we're all hanging out on the DTRaleigh Community, an online forum for passionate fans of the Oak City.