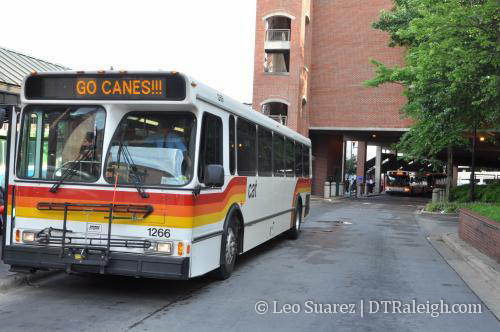 No, the Hurricanes aren't in the Stanley Cup. But when they do go back, if you would like to see more CAT buses decked out in red and white, you need to comment on the Short Range Transit Plan being carried out by the City of Raleigh and a few other organizations. Comments about your current use and how you feel about investing in more buses would be helpful too. You can find a survey on the city's website here. From the site:
Project Scope
The purpose of the plan is to identify ways to increase mobility in the Capital Area. The plan will be based on input Capital Area Metropolitan Planning Organization, the City of Raleigh, the Town of Cary, Wake County, the North Carolina State Wolfline and other Wake County municipalities, agencies, businesses, community leaders, residents and other interested parties. The Bus Transit Development Plan will look at the transit needs for all of Wake County and will be designed to integrate with regional transit routes.
I feel bad talking about this a bit late as two of the four public meetings have already occurred but here are the dates for two more meetings to discuss this plan.
Tuesday, June 7 5-7 PM
Triangle Town Center 2nd Floor, near Belk
5959 Triangle Town Blvd
CAT routes:
1 – Capital
25c – Triangle Town Center
WFX
Thursday, June 9 5-7 PM
NCSU McKimmon Center – Room 3
1101 Gorman St
CAT Routes:
12 – Method
Similar Posts: