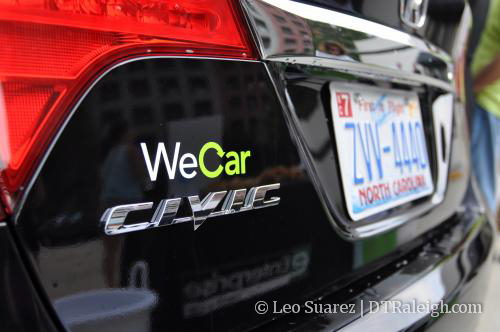 This week, the Raleigh DLA had a big announcement that it has brought a car sharing program to downtown Raleigh. With the help of the Glenwood Agency, the car sharing company, WeCar, will maintain two cars in designated parking spots for the program. Jump on over to the Raleigh DLA's blog post for all the details on how they got it done and how it will work.
WeCar is owned by Enterprise Rent-A-Car, who, if you don't know already, has a rental car lot at the corner of McDowell and Cabarrus Streets. They will cover the maintenance of the cars while not in use. The two Honda Civics will have their own designated parking spots; one on the Enterprise lot and the other on West Street near the North Street intersection.
Car sharing has launched in several cities, including this year in Nashville and has been around since 2008 in St. Louis, and some universities, with the University of West Virginia and University of Missouri having their own car sharing programs.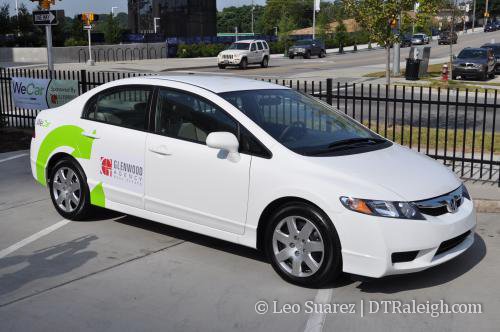 Two cars may not sound like a lot but today the seed has been planted. The city of Raleigh has put out a bid for an official car sharing program for the area and if WeCar wins this bid, more cars will start to pop up in downtown as well as around NC State and Meredith College.
Car sharing is another option for anyone living downtown to be more mobile and get around the city. With this system in place, there is an option to use a car when the city's transit network can't get the job done. Increased options is always a good thing.
If successful and car sharing grows in Raleigh, this hopefully will impact future developments. If the need for more cars goes down, so does the need for parking decks and more space can be built for sale rather then for metal boxes. It will be exciting to see car sharing grow in downtown Raleigh over the next few years.