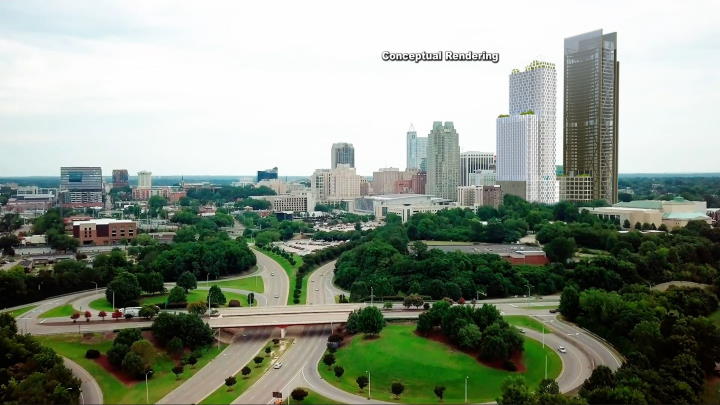 The city has started the Request for Interest (RFI) process for a new convention center hotel as well as added mixed-use development for properties they own at the southern end of Fayetteville Street. The conceptual rendering above is what could go on these sites as they are currently zoned for up to 40 stories.
A website has been put up with more details so jump right into here if you want more. If not familiar, this would be for the two surface parking lots sitting right in front of the performing arts center.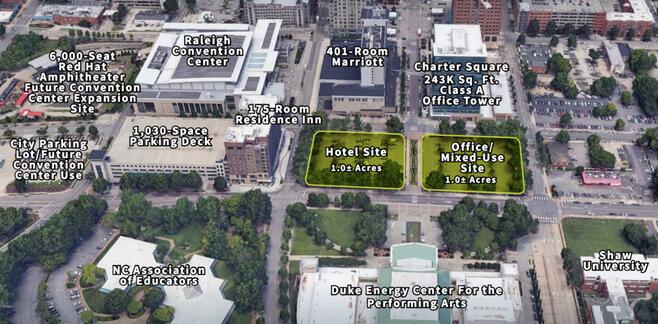 It looks like there will be negotiations going on all year with developers but the key takeaway here is that a large hotel is needed to serve the convention center. A hotel with 400 or more rooms is key as the large amount in a single building allows for larger conventions. It is preferable to get everyone together rather than spread all over town.
Some highlights from the RFI:
Right-of-way is mapped to extend Fayetteville Street through the property creating two sites, each about one acre.
The 500,000 square foot Raleigh Convention Center (RCC) and connected 401-room Marriott opened in 2008, and the market has since outgrown the available hotel room block within walking distance.
The 2018 JLL Destination Strategic Plan recommends a new 500+ room convention hotel that, when combined with the RCC optimization effort, could generate over 100K new annual room nights.
Raleigh's projected population growth is nearly 70% over the next 25 years.
Downtown Raleigh attractions drew 3.4 million visitors in 2018. Visitation to downtown attractions is up by 47% since 2007.
In addition to the convention center hotel, an office mixed-use tower would be desired here. This would also extend Fayetteville Street between Lenoir and South Streets.
This is very exciting to see and hopefully interest is very high for something like this. There's also a video associated to the effort which is embedded below. (or here on YouTube)