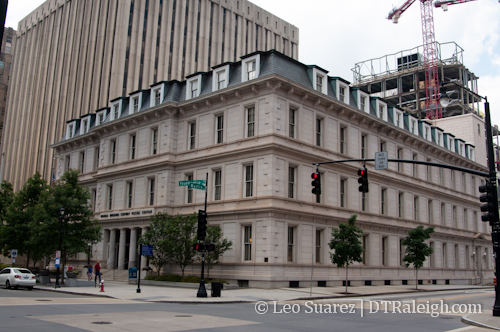 The post office on Fayetteville Street will close this July according to the N&O.
Citing drastic declines in mail volume, the U.S. Postal Service will close its downtown post office in July, shuttering an institution that has stood on Fayetteville Street for 134 years.
…….
There was no word about a possible future use for the ground floor space that will be vacated. Post office officials did not return calls seeking comment, but a note taped to a mail slot attributed the closing to recession-related declines and changing consumer habits.
No one should be surprised by this news as multiple offices have been closing around Raleigh and around the country. The U.S. Postal Service can't seem to cover their costs so it is only natural that closings like this are occurring. The state of the current economy also doesn't help things out.
I actually first heard about this news on Twitter. The tweets I read were from people asking others to support the office and demand that it be left open. I do understand that the service is still needed, even relied upon by some but I can't seem to get behind the idea of keeping the downtown office open.
Am I against the mail service? Not at all. I feel that this service should continue to exist for all citizens but in today's shift from paper to internet, the service should transform with the times in an appropriate way. This shift is not what this post is about so I'll stop with that statement in order to stay on topic.
Anyway, the historic, beautiful building on the corner of Martin and Fayetteville Street will have some open space soon and I believe this creates an opportunity for something new. My first idea that I have had for a little while (PROOF!) is for the Century Post Office to be repurposed into a library. Maybe not right away, or perhaps not the first use of the new space but with a growing downtown this would be a perfect opportunity to have a downtown library in a landmark building with a prime address.
The federal government's current cutting of excess properties makes this an interesting opportunity for, perhaps, Wake County to make a play at moving into the building.
Downtown probably still has a long way to go before the downtown express library is upgraded but you never know.
The postal service may be moving out but the building will still stand and can serve citizens in a new way in the future.