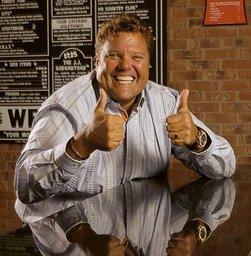 Most of you probably heard
the news yesterday
related to
City Plaza
. For those that did not, it was announced that
Jimmy John's
has signed a lease for one of the spaces. From what I know, the Hillsborough St. and Page Rd. locations do pretty well. I think they will honestly kill it during lunch hours and pretty much own it on a nice weather day. If you haven't been, Jimmy John's serves pretty good sandwiches and makes them relatively fast so convenience is high. I believe the one near NC State stays open late too so we'll see if this one does the same when it opens later this year.
Looking to the future of City Plaza, there are still other spaces to fill. The WRAL article claims that there are six total spaces available for restaurants. If all six become food places, then let's hope there is a nice mix so that all meal hours are properly covered; from breakfast to late-night. It would be a shame for out of town visitors walking out of the nearby hotels to see an inactive "city center".
Anyway, I'm actually really looking forward to City Plaza. Anyone's first visit to Fayetteville St. can tell that there is some significance there and this plaza should make it feel like the center of all the activity on the street.