[Today's post comes from Lauren Pritchett, a Triangle native and resident of Cameron Park, a surrounding downtown neighborhood. Lauren has helped bring the locally led walking tours of Jane's Walk to Raleigh. You can follow her through her blog or Twitter, @hilgspritch. (Leo)]
"Raleigh's Second Renaissance" has been a wildly trending phrase since the DRA's 2014 State of Downtown in mid-April. Raleigh is indeed experiencing a new chapter of development. As much excitement that a renaissance can bring, it can be equally as daunting. We must make decisions that will affect our overall quality of life.
On May 3rd and 4th, Raleigh will be celebrating its inaugural Jane's Walk to encourage open conversations about the city's development. Jane's Walk is a global initiative honoring urban activist Jane Jacobs' birthday. It is designed to promote urban literacy through locally lead neighborhood walking tours, each focusing on a different theme. As part of the event, I will be facilitating the DTR History of Commerce Tour. We will stop at 10 different landmarks starting at the COR Museum on May 3rd at noon.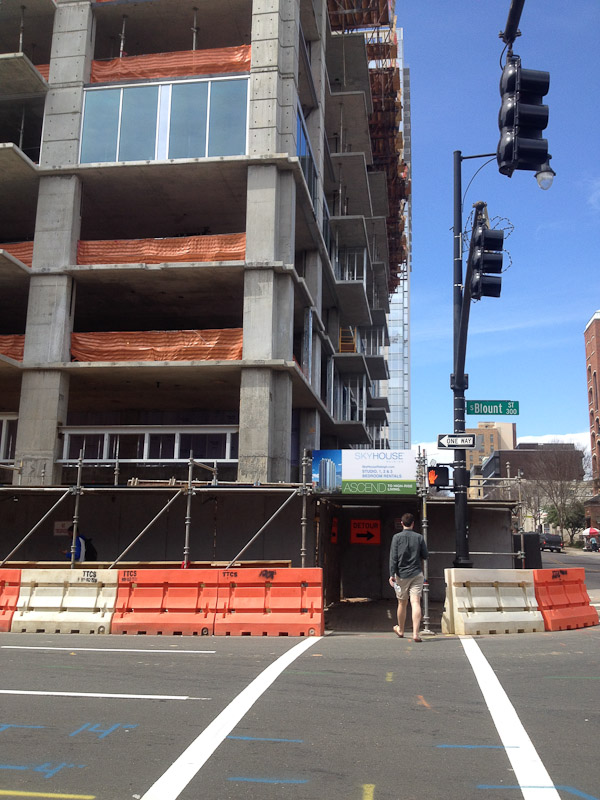 I've found that evidence of Raleigh's resilience in the face of challenges can be extrapolated from our commercial architecture. One fundamental example of this is Fayetteville Street's beloved Briggs Hardware Building. Thomas Briggs inspired our young epicenter during the Reconstruction Era by opening up the city's first skyscraper for his shop in 1874. The subtle Art Deco style that The Raleigh Building features remind us of our ability to overcome the Great Depression. Soon, SkyHouse will be erected on the corner of Martin and Blount Streets as a symbol of Raleigh's Second Renaissance!
During my free time, I jot down thoughts about my concerned citizenship on my blog. Usually, my curiosity leads me to wanting to know more about what came before us. What I've learned from researching downtown's history is that we have endured a lot! Since becoming the capital of the "Rip Van Winkle State", Raleigh has survived population growth spurts, wars, economic downfalls, and civil rights movements. For a small, often overshadowed, Southern city, I'm intrigued with how these milestones affect the wax and wane of Raleigh's development.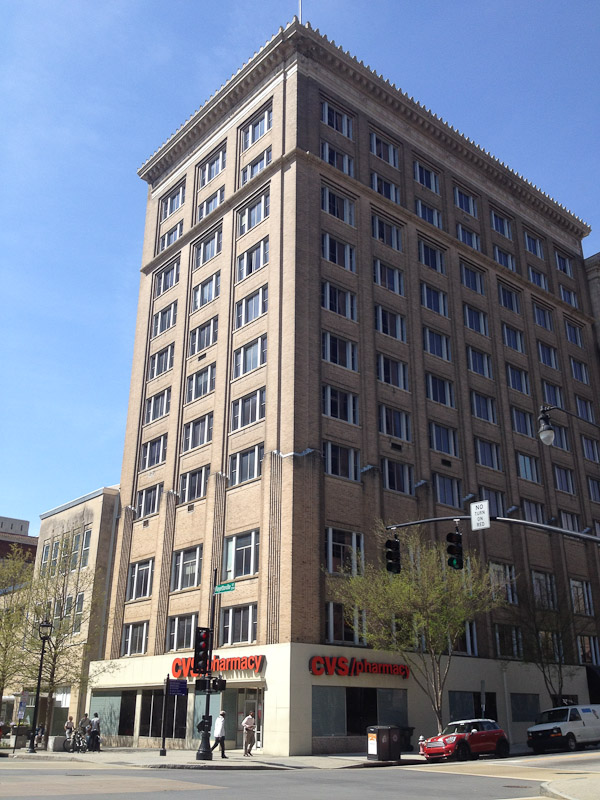 Please join me in discussing examples of our resilience and transformation during Jane's Walk. Our outgoing Chief Planning & Development Officer, Mitchell Silver, will also be leading a walk starting in Nash Square at 1:30pm. On Sunday, May 4th at 2pm, I invite you to follow urban instigator, Matt Tomasulo, as he explores the opportunities of Dix Park. Jane's Walk is coming to our city at the perfect time and is sure to be full of inspiration.