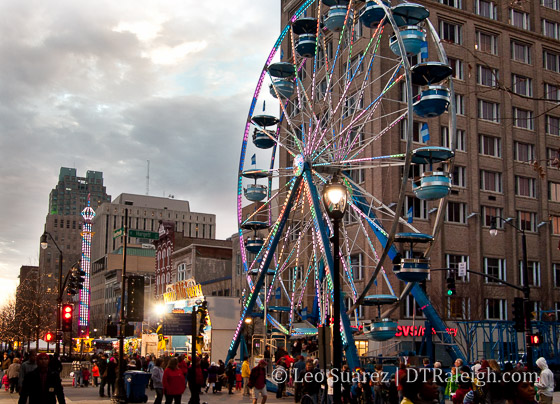 The Raleigh Connoisseur is a media sponsor for First Night Raleigh 2016
This year's First Night Raleigh is set up to be a good one. The theme is "Celebrating North Carolina Firsts" which will include popular and lesser known facts about our state.
Organized by Artsplosure all throughout the year, the event will have something for everyone. Typically drawing over 40,000 people, with a record of 80,000 in 2012, First Night is built on a foundation of Celebration, Community, the New Year, and the Arts.
Everything starts at 2pm at the N.C. Museum of History, N.C. Museum of Natural Sciences and on the Bicentennial Plaza with the Children's Celebration. Things really get going with the main stage performances at 5pm and tons of other activities all over downtown Raleigh up until the countdown to midnight.
As always, you can't miss out on seeing the giant acorn get dropped. It's kind of our city's thing, along with a spectacular fireworks display. There will be a drop at both 7pm, to accommodate families with young children, and then the finale at midnight.
What isn't different about First Night Raleigh year-to-year is that we always make sure that everything that we do is something that our whole community can have access to and enjoy. That's our mission each year and our ultimate goal is that this event is as inclusive of all members of our community as possible.
Raleigh's biggest New Year's Eve celebration will bring back some favorites as well as mix in some new experiences. The 90-foot Ferris wheel is always a big draw as well as ballroom dancing in the Sir Walter Ballroom and the People's Procession. If you want more of a thrill, The Sizzler may be more your speed.
I'm looking forward to Art Putt, a nine-hole miniature golf course created by local artists in the City Market Building. Appropriate as North Carolina is the home to the first putt-putt course. Each course will also highlight another North Carolina first including our #1 in the world salamander diversity and the state's first gold rush.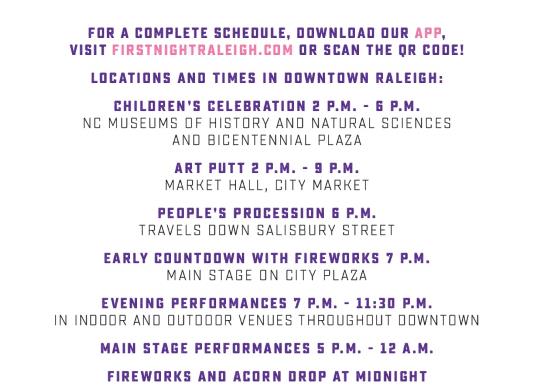 Performances during the evening portion of the night include:
Scythian at City Plaza
TOW3RS and See Gulls at Vintage Church
Josh Dumbleton at Edenton Street United Methodist Church
John Dee Holeman at CAM
Click here to see the entire list of performances planned for First Night 2016.
If you have a smartphone, you can get the free First Night Raleigh app for iOS and Android. It's a great way to plan your night, showing you a list of events and an interactive map that you can add to an itinerary so you won't miss anything.
Tickets are $10 in advance and you can purchase them now. VIP passes are also available.
When planning your trip into downtown Raleigh, make sure to consider the free park-and-ride locations. One at the NCSU Park and Ride Lot and another at the Wake County Government Office Park, GoRaleigh will be running buses back and forth between 6pm and 1am during First Night. Parking in downtown Raleigh will cost $5 in most parking decks, hourly rates in others.