Picture by Prachi Gauriar via Flickr.
When I'm not taking photos or drinking beer, the tech junkie inside me likes to find a cool spot downtown and 'geek out'. Coffee shops are usually the place to find people doing the same being productive for their work or for a hobby. I'm a big fan of drink and wi-fi on slow weekends and I know there are others out there. Inspired by John's recent comment on the topic (you the man!) here is a short list of places to visit that offer good atmosphere and amenities for web surfing and working.
Café Helios
Café Helios is a great coffee shop in Glenwood South. On top of coffee, they also serve wine, beer, and there is a light food menu to keep you from starving. My favorite part of Helios is when the weather is nice and all the doors open up. The outdoor seating is cozy with a wall of bushes that separates people from the sidewalk. Check out half price wine bottles on Tuesday and $2.50 pints on Wednesday. Open late too.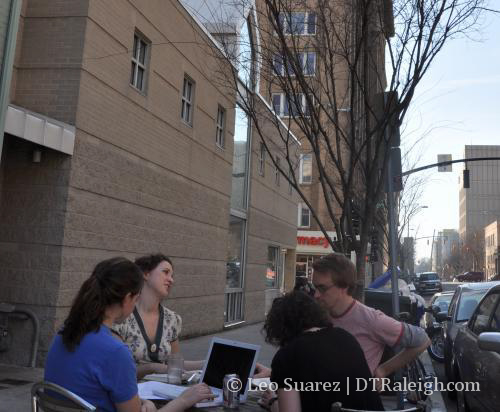 The Morning Times
Another coffee spot that gets love for having great hours is The Morning Times. They pretty much have the Fayetteville St. area covered during late night. A few outdoor tables and large windows on the first floor offer some great people-watching spots when you want to drift away from working. The second floor is practically an art gallery with tables for studying or writing. They have all the coffee you need as well as some juices and snacks. Morning Times is very laid back, even with all the energy right next door at The Raleigh Times.
The Flying Saucer
Probably for the less serious worker, The Flying Saucer may have the largest beer selection in downtown with about 80 taps and over 200+ beers total. If you are sitting inside, the day time is usually less hectic until the nightlife crowd shows up and getting a table for all your things is easy. When it's warm, the outdoor benches are the place to be to get a little radiation from the sun and your laptop screen.
Boylan Bridge Brewpub
The recently opened Boylan Bridge Brewpub has the best view from any outdoor seating area in downtown. The huge patio has several benches for your tech fiesta to gather on. If flying solo, the small tables will do just fine. Microbrew beer and solid bar food will keep you happy as you take in the view. The indoor area isn't bad either.
Fayetteville St.
This goes hand in hand with the upcoming free wi-fi initiative that the city is proposing. Not all tech culture has to include beer or coffee. Grab that netbook, sit on a bench, and get online. You don't have to spend any money and it works from the Capitol building through City Plaza all the way to the performing arts center. People-watching here is at an all time high when the weather is nice. Those benches were put on the sidewalks for this purpose right?
Honorable Mentions

Landmark Tavern
Landmark is more of a happy hour spot because they do not open until 4 pm. The beer garden patio in the back is great when you want to be outside in the shade.

Raleigh Times
The atmosphere at Raleigh Times is through the roof here and they have plenty of tables outside. Getting work done can be difficult; the place is way popular.
Port City Java
Port City Java is another coffee shop with plenty of room to sit and work. They have lots of windows that show the activity outside. I'd like to see more outdoor tables though.
Sosta
Sosta is a great early morning and lunch spot. They have a comfortable atmosphere that will let you focus on what you need to get done.