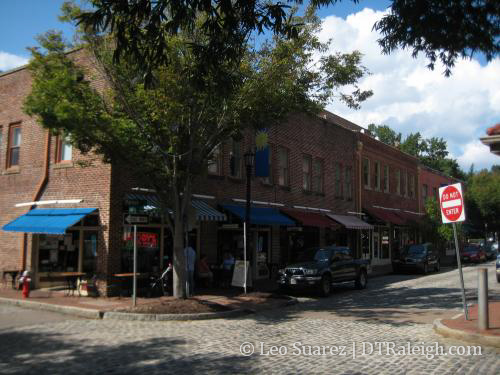 Plans for any of this are not in the works to my knowledge so this discussion is purely speculative but what if cars were not allowed on the stone streets of City Market? I thought about this recently while I was walking down the skinny sidewalk on Blake St. (some of you know what I'm talking about) and was maneuvering through parked cars in order to get around. Granted, I could have just walked in the road since traffic is always light but it is still a road and cars have 24 hour access here. Would the shops in City Market benefit if cars were taken out of the picture?
City Market only occupies about a half block of space so we are not talking about a huge area. The parking lot to the east provides plenty of space for cars any time. What hasn't been available before that is now is the parking deck across Blount St. There are over 1,000 spaces here and even on this month's busy First Friday, there was a ton of room available here. (I know because we went up to the ninth floor to take pictures, great view)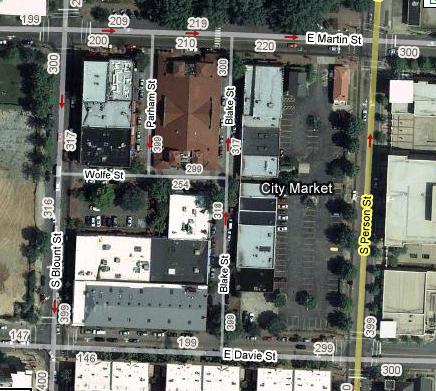 So if the cars are gone, we would need to make the area more pedestrian friendly. One idea would be to make the sidewalks flush with the street. That way, pedestrians have plenty of room to walk and are not confined to a four or five foot sidewalk. Next, more trees would be needed for shade during the summer months. There are already some so a few more would make the area cozier, especially if more outdoor seating was offered. And as for the larger lot on Wolfe St., a public plaza could go here. Events are already held in Moore Square, and in the future City Plaza, so I think a larger gathering space would be appropriate. (maybe some public art?)
I really do not see taking the cars off the streets to have a negative impact on the businesses in City Market. In most cases, people do not come to a shop in City Market because they noticed it while driving by. This is because those short streets do not really take you anywhere so it is not a route many drive through. If City Market was marketed more as a place to stroll around with cool shops, places to eat and hang out then I think it would get a nice boost. Right now, the R-Line stop helps pour more pedestrians into this area so getting rid of the cars can make things easier and more inviting. And if anything, this might help land a solid tenant in the empty historic City Market building.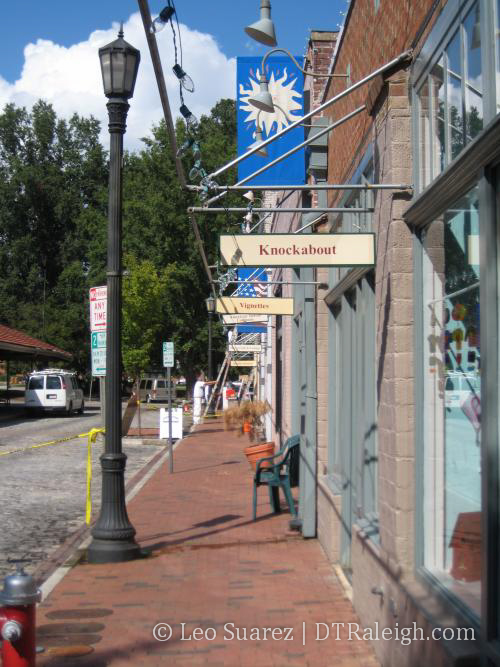 Similar Posts:
Comments
Comments are disabled here. That's because we're all hanging out on the DTRaleigh Community, an online forum for passionate fans of the Oak City.